Tourists planning to enjoy Sri Lanka holiday packages must obtain an ETA – Electronic Travel Authorization If they are not exempt. All travelers must hold a passport which is valid for 6 months. For those coming from Afghanistan, Iran, Iraq, Nigeria, Pakistan, Somalia, and Syria, they must hold return or onward tickets. Tourists are strongly urged to use the online system to avoid lengthy delays at the port of entry.
Which Countries Can Travel to Sri Lanka without Visa?
On the basis of reciprocity, citizens of the 3 countries: Singapore. the Maldives and Seychelles, are exempt from the requirement to obtain both a visa and an ETA for Sri Lanka.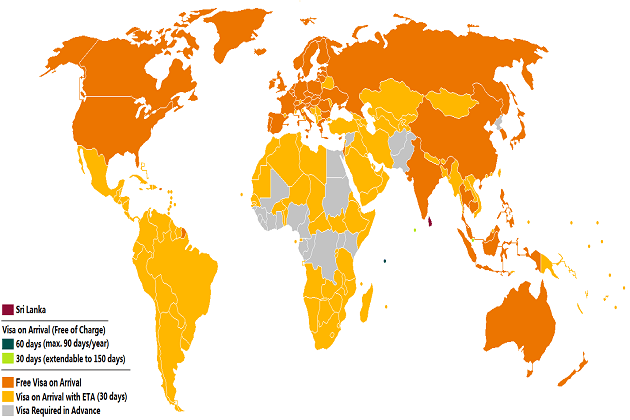 Countries with Free Visa Program
The Sri Lankan Government declared a plan to allow citizens of certain countries to travel to Sri Lanka without a visa for stays up to 6 months from 1 May 2019, for a trial period of 6 months. There was also a plan to extend the facility to the countries of the South Asian Association for Regional Cooperation along with China in the future. This program was suspended after the 2019 Sri Lanka Easter bombings.
The plan was implemented on 1 August 2019, though it was amended so that travelers would still have to obtain visas online, on arrival or in advance; however, free of charge. Nations in the Free Visa Program are All European Union citizens, Australia, Cambodia, Canada, China, Iceland, India, Indonesia, Israel, Japan, Malaysia, New Zealand, Norway, Philippines, Russia, Singapore, South Korea, Switzerland, Thailand, Ukraine, the US.
Which Countries Must Obtain Sri Lanka Visa in Advance?
There are 21 nations, in the total, must obtain a Sri Lanka Visa in advance. They are Afghanistan, Cameroon, Republic of the Congo, Democratic Republic of the Congo, Cote d'lvoire, Gabon, Ghana, Guinea, Guinea Bissau, Kenya, Liberia, Mali, Myanmar, Nigeria, North Korea, Pakistan, Sierra Leone, Sudan, Syria, Uganda.
Countries with Non-ordinary Passports
Holders of diplomatic, official or service passports of the following nations may travel to Sri Lanka without a visa. They are Bangladesh, Belarus, Brazil, Chile, China, Cuba, Georgia, Hong Kong, India, Indonesia, Iran, Kazakhstan, Kenya, Maldives, Myanmar, Nepal, Pakistan, Philippines, Romania, Russia, Seychelles, Singapore, Thailand, Vietnam.
How to Obtain a Sri Lanka Visa on Arrival?
Before traveling to Sri Lanka, you have to do the following to get a 30-day visa:
Browse www.eta.gov.lk – the Sri Lanka Electronic Visa website, a few days before arriving.
Follow the online application process & pay with a credit as well as a debit card.
When approved, print out the visa confirmation.
Also, you are able to obtain Sri Lanka visas at Sri Lankan embassies abroad and a counter is at Bandaranaike International Airport for people arriving without a visa, though you will have to wait with the other visa-less masses (that can take few hours) and pay a higher fee – up to $40 (US dollar).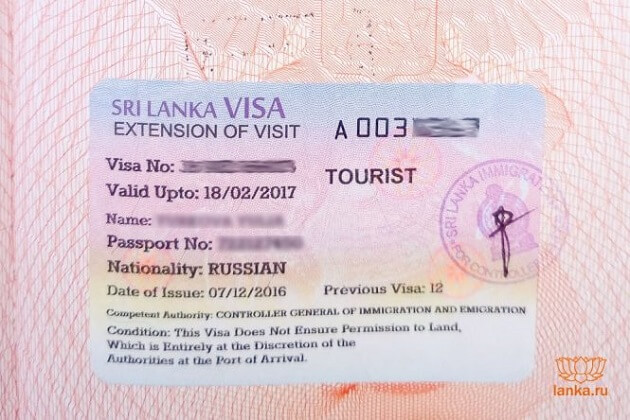 What is Electronic Travel Authorization – ETA?
In January 2012, Sri Lanka's Department of Immigration and Emigration introduced the ETA – Electronic Travel Authorization system for tourists traveling to Sri Lanka. Tourists from almost any country in the world are now able to apply online without visiting an embassy or consulate.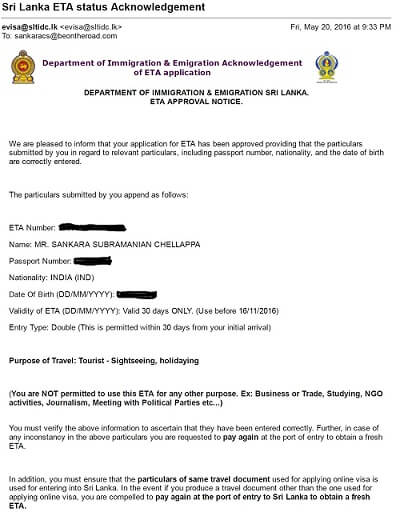 The ETA is an official authorization for short-term visits to Sri Lanka and is issued electronically. When the online payment is completed., applicants will receive visas via email after totally completing the application form with the necessary information.
Required Document to Apply
Passport with at least six-month validity
Credit/debit card or PayPal account for payment
Digital passport photo
Essential Instructions
The ETA is limited to 30 days per entry of stay in Sri Lanka from the date of arrival and allows for 2 entries.
The information entered will be sent electronically to the Department of Immigration & Emigration – DI&E and we will send your Sri Lanka ETA online via email.
Tourists who want to travel to Sri Lanka must have a passport valid for at least 6 months from the planned date of entry.
We suggest passengers verify the information, print it out, and bring a physical copy on their trip. Also, at the airports, the check-in staff can verify the registration on their system. However, we highly recommend that you keep a copy available on a personal electronic device, in addition, to carrying a printed copy.
While you are in Sri Lanka, you cannot obtain a new ETA, regardless of whether your current ETA is valid or expired.
Frequently Asked Questions about Visa in Sri Lanka
I know there would be some questions that you are wondering about yourselves. So, I would like to show you a collection of FAQs that travelers constantly question the Sri Lanka Tour Operators.
How much does a Sri Lanka Tourist ETA cost?
It depends on which your nationality is. In addition, there is a service fee of:
Standard Processing: USD 20.00
Rush Processing: USD 50.00
Super Rush Processing: USD 70.00
How long is Sri Lanka Tourist ETA valid for?
The Sri Lanka Tourist ETA is valid for 90 days (3 months) after the issue. It means that you must enter to Sri Lanka within 90 days after issue. A double-entry visa is available and allows for a maximum stay of 30 days Per Entry.
If I already have a valid Tourists ETA, can I apply for a new one?
Absolute no. A new ETA isn't able to be obtained using the same passport until it expires (6 months after issue). But in case of losing the passport containing the valid ETA, you can apply for a new one.
Is it possible to work in Sri Lanka with the ETA?
No. the ETA is just for the traveling purpose.
How long does it take to have an ETA?
Depending on the method of processing you choose, I offer 3 options:
Standard Processing Time: 24 hours
Rush Processing: 4 hours
Super Rush Processing: 30 minutes
Do children need to have a Sri Lanka ETA?
Children under 12 years old are exempt from applying the ETA.
Does an ETA have any advantage?
The Tourist ETA is able to be applied for and issued online, eliminating the need to head to an embassy as with a traditional visa.