From the moment I first came to Galle, I knew that I loved it. Bumping into narrow, bustling laneways as well as crumbling colonial relics, an ever-present scent of exotic spices along with the marvelous tropical setting, all of them leave me a deep impression and I don't know how to describe my feeling at that moment. Whether you are a poet, a photographer, an artist or something else; you will be in love with Galle – Sri Lanka!
So, if you are indulging in jubilant Sri Lanka tours at somewhere in Galle, don't you worry about the best experiences, my friends. I have done that for you. Below, there are top wonderful Galle attractions as well as thing to do and see in Galle that you should once get into.
Top 5 Irresistible Things to Do and See in Galle
Head to the Renowned Galle Fort Lighthouse
Framed by palm trees and postcard-perfect; if you only do one thing in Galle, it has to be visiting the beautiful Galle Lighthouse and admiring the most instantly recognizable feature of the Fort.
This stunning white lighthouse that dates back to 1848, (although the current structure was rebuilt in 1939), and stands on the walls of the ancient Galle Fort, guiding the safe passage of ships into Galle Harbour.
The lighthouse is still very much in use, although it now has another, secondary role, as a prop to those wanting the perfect Sri Lankan photo.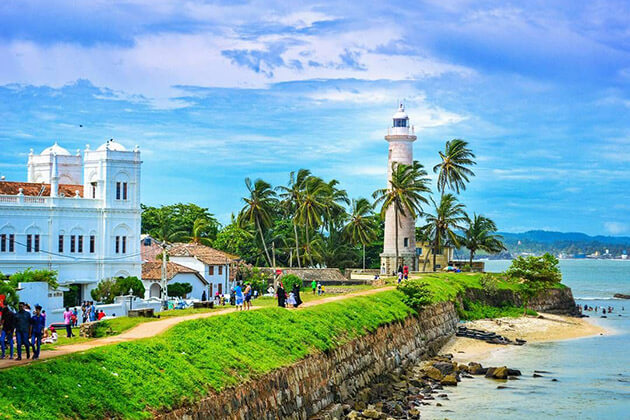 Get into the Outer Wall Walk
If these coral-mixed walls and ramparts could talk, they would have manifold stories to share about Galle Fort's long as well as varied history. If you are up for discovering each and every corner of Galle Fort's outer walls, just follow the 'Fort Walk', starting at the historic Clock Tower, before making your way move onto the Main Gate, heading south into the interior of the Fort, passing the Dutch Reform Church until reaching the western section's restored Dutch Hospital.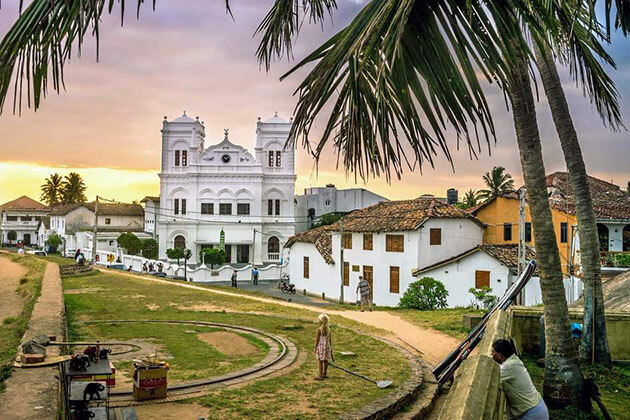 Once there, continue south towards the renowned Galle Lighthouse, before following the walls to Meeran Mosque, Flag Rock, and Triton Bastion. Your walk will finish at Star Bastion that overlooks the northern coast towards Hikkaduwa. En route, observe locals playing cricket, eat one of the several tasty street food options, and cool yourself off in one of the many inner fort bars. The walk is roughly 2 kilometers and best done early in the morning or late in the afternoon, when the temperatures are more manageable – the sun in Galle is infamously fierce!
Stroll through the Galle Fort Interior
Without doubt, one of our favorite things to do in Galle Fort was getting wonderfully lost amongst the time-worn laneways and breezy Dutch colonial-style buildings of the historic center.
Thankfully, due to the high ramparts of the Fort wall, much of this area survived the 2004 Boxing Day Tsunami, which means that there are plenty of beautiful remnants still on display from old-aged, Portuguese, and Dutch colonial times. Don't be surprised if you often feel as though you've been transported straight to the cobblestones of Europe!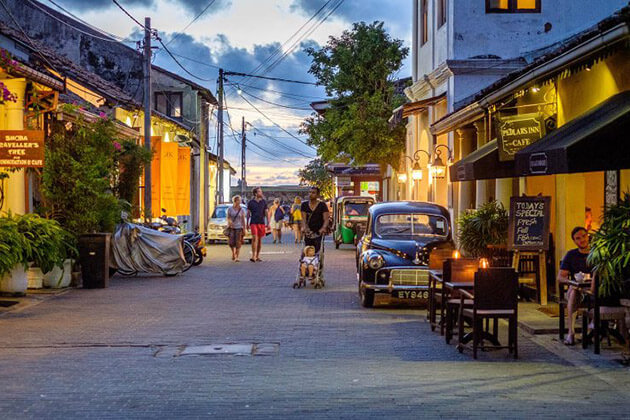 There are some sites that I would highly suggest you visit: Dutch Reform Church, Old Dutch Hospital, Amangalla, All Saints Anglican Church, Meeran Mosque, Sudharmalaya Temple. Honestly confessing, this is the best things to do and see in Galle that you should not miss once in Sri Lanka.
Marvel at Sunset Scenery from Galle Fort Wall
In the late afternoon, at around 5:30 pm, tourists and travelers alike gather along the fort walls to admire the sunset over the Indian Ocean. It's a festive and happy affair; cricket games are played on the grass below, whole families gather to see off the last of the day, and travelers mingle and chat while Mother Nature streaks the sky all kinds of shades of blue, pink, orange, and purple.
I have now visited Galle twice on two separate trips, and watching a sunset from Galle Fort remains one of my favorite experiences in Sri Lanka. There's just something about the glorious technicolor end to the day that feels a little more special here than anywhere else I've visited.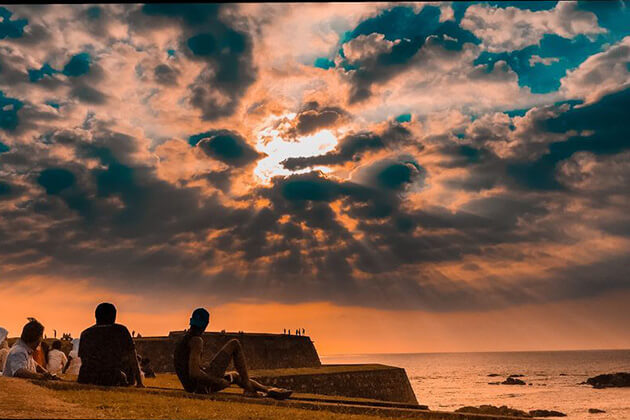 I reckon the best point to watch the sunset from is the Triton Bastion, however, you can watch the sunset from pretty much any point on the western side of the Fort walls.
Don't forget to keep a lookout for the cliff jumpers at Flag Rock too; each evening a group of locals defies danger by leaping backward off the ramparts to the ocean below.
Taste a Thali Bowl at Poonies
I'd read that Poonies Kitchen was the coolest cafe in town, serving incredible, fresh organic produce and photogenic salad bowls. It absolutely didn't disappoint.
Taking place at the rear of Mimi Mango boutique on Pedlar St, Poonies specializes in colorful, nutritious and progressive food with a hint of Sri Lankan flavors. The signature dish, the super Instagram able Thali salad (1300r), is a definite must-try. Based on an Indian 'thali', it's a mish-mash of deliciously fresh flavors and as Mim says, is like "eating a rainbow".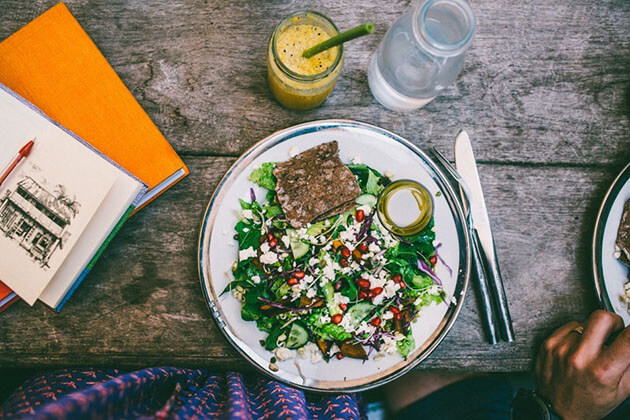 Other dishes worth trying include the Thai Prawn Soup with pumpkin, coconut and lemongrass (1200r), and if you're after dessert, tuck into their famous carrot cake (500r). Fresh juices are also available at around 500r.
Overall, these are the 5 best things to do and see in Galle. If you have a chance to come to such an incredible area, do not forget to experience these things.
Top 5 Charming Galle Attractions
Unawatuna
For those who want to immerse in the safe and sound ambiance, lie on the soft and moist sand, let the whole body be kissed by the sun, Unawatuna must be their thing. One of the best attractions in Galle, this is one of the most stunning beaches existing on the earth. While it is not ideal for surfing, it is a great location if you want to go swimming because of the calm waters. If you are interested in snorkeling or other water sports, you can head to Jungle Beach which is located only a short walk away.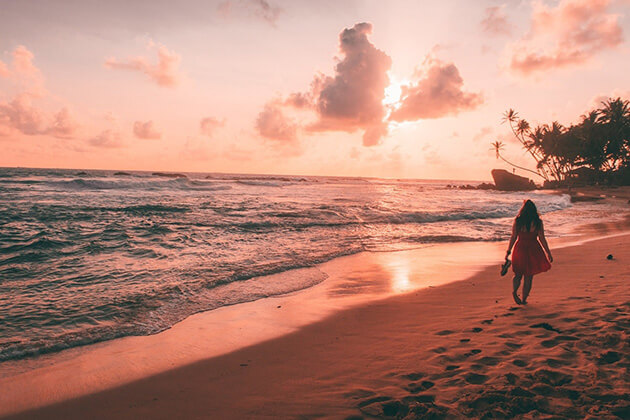 National Museum of Galle
While Sri Lanka as it exists today is a relatively young nation, the civilization that inhabited this part of the world is centuries old. If you want to get an insight into this rich and vibrant past of Sri Lanka, one of the top places to visit in Galle town is the National Museum of Colombo. It offers the visitors to look into a cross-section of Sri Lanka's entire history, artwork, and relics from the Anuradhapura Kingdom, dating back to 4th century B.C.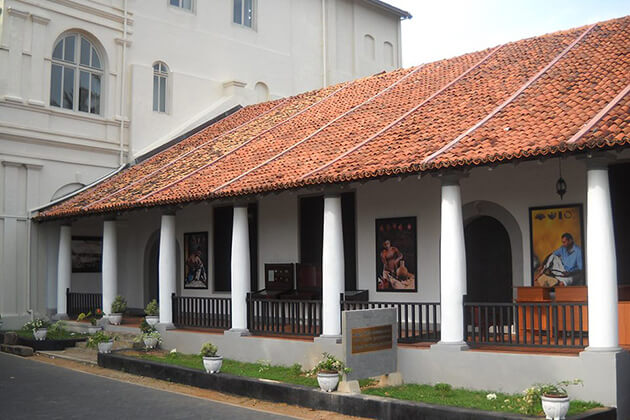 Sinharaja Forest Reserve
Sinharaja Forest Reserve – a UNESCO World Heritage Site, is a must-visit Galle attraction for those who love nature and wildlife! It is the home to a great number of endemic species of Sri Lankan birds and animals lovers. Approximately 95% of these birds and 50% of these mammals inhabit this Forest Reserve. Make sure that you do not miss a chance to get into a Safari there.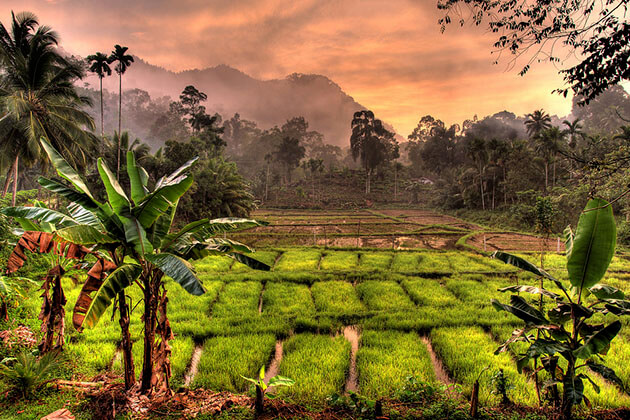 Flag Rock
Most tourists want to end hectic days with some tranquility and maybe an added sunset on the horizon! Flag Rock gives tourists all this as well as the sound of seagulls along with waves which make it the perfect destination to end a day in Galle! If you are wondering what to see in Galle, you should definitely add this erstwhile Portuguese bastion to your list! A simple but, well-worth to visiting attraction in Galle.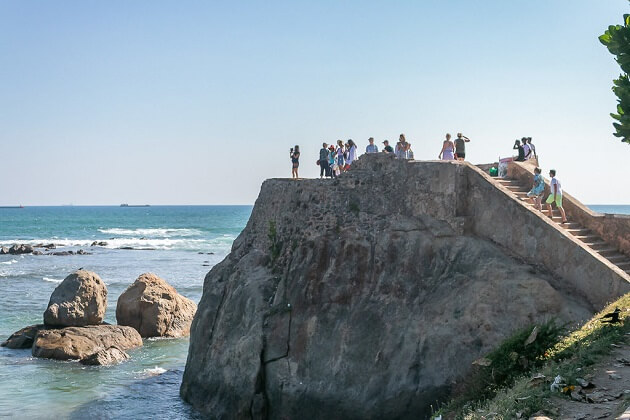 Independence Memorial Hall
Apart from being a beautiful architectural building, the magnificence of the Independence Memorial Hall rises from its history. It was constructed in 1948, when the country achieved independence from their colonizers, Britain. It is a grand monument that should definitely be in your Galle attractions to visit.
Generally, these are 5 best things to do and see in Galle as well as 5 attractive Galle attractions. There are so many other things in Galle that are waiting for you. Ready to travel to Sri Lanka? If yes, or even not yet, feel free to contact us and get yourselves useful details about such a wonderful country.