Mirissa is a small town on the south coast of Sri Lanka, known for its stunning beaches, lush greenery, and diverse wildlife. It is a perfect destination for couples who want to enjoy a romantic and dreamy getaway, away from the hustle and bustle of the city. In this article, we will show you some of the best things to do and see in Mirissa, as well as provide some tips on how to plan your Sri Lanka tours.
The right time to visit Mirissa is to enjoy everything the place has to offer
The best time to visit Mirissa is from December to March, when the weather is dry and sunny, and the sea is calm and clear. This is also the peak season for whale watching, one of the main attractions in Mirissa. You can expect to see blue whales, sperm whales, dolphins, and other marine creatures in their natural habitat. The average temperature during this period is around 30 degrees Celsius, which is ideal for relaxing on the beach or exploring the town.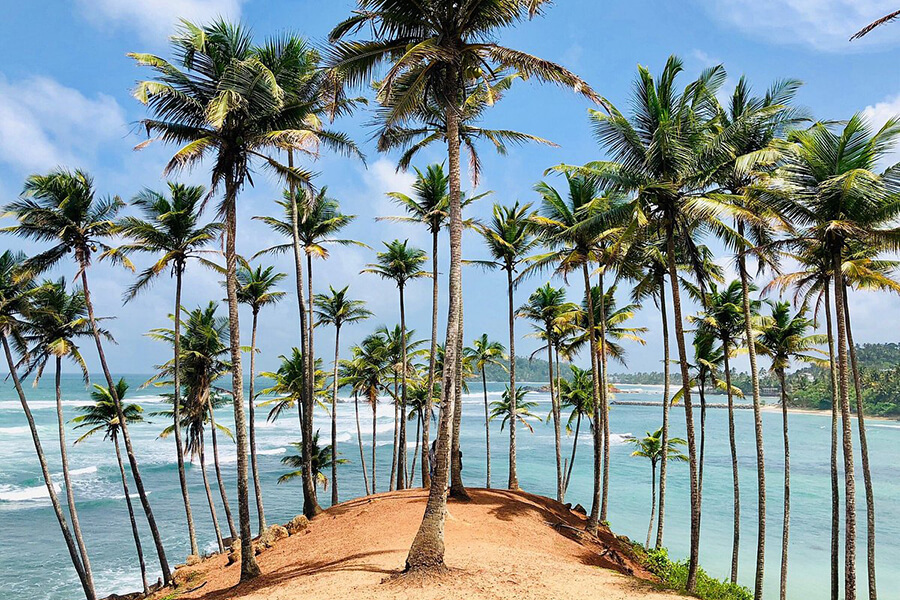 Besides being famous for its beautiful scenery, what is Mirissa also famous for?
Mirissa is famous for its beautiful beaches, which offer a variety of activities and experiences for visitors.
Some of the most popular beaches in Mirissa are:
– Mirissa Beach: This is the main beach in Mirissa, where you can find many hotels, restaurants, bars, and shops. It is a long stretch of golden sand, with palm trees and turquoise water. You can enjoy swimming, surfing, snorkeling, or just sunbathing on this beach. You can also climb up to Parrot Rock, a small island that offers a panoramic view of the beach and the ocean.
– Coconut Tree Hill: This is a scenic spot at the end of Mirissa Beach, where you can see hundreds of coconut trees on a hill overlooking the sea. It is a great place to take photos, especially at sunset or sunrise. You can also spot some peacocks and monkeys roaming around the hill.
– Secret Beach: This is a hidden gem in Mirissa, which is not so easy to find. You have to walk through a narrow path and some rocks to reach this secluded beach, which has white sand and clear water. It is a peaceful and quiet place, where you can relax and enjoy nature. There are also some small cafes and bars nearby, where you can get some drinks and snacks.
Whale watching
One of the most exciting and memorable things to do in Mirissa is whale watching. Mirissa is one of the best places in the world to see whales and dolphins in their natural environment. You can join a whale-watching tour that will take you on a boat ride to the deep sea, where you can spot these majestic creatures. The tours usually last for about 4 hours, and include breakfast, snacks, drinks, and safety equipment. The best time to go whale watching is from December to April when the sea is calm and the visibility is high. You can expect to see blue whales, sperm whales, fin whales, humpback whales, killer whales, dolphins, turtles, and more.
Sri Sunandarama Temple
If you want to experience some of the culture and history of Mirissa, you can visit Sri Sunandarama Temple, which is one of the oldest Buddhist temples in the area. It is located on a hill near Mirissa Beach and has colorful and ornate architecture. The temple has a large Buddha statue, as well as paintings and sculptures depicting various scenes from Buddhism. You can also enjoy a panoramic view of Mirissa from the temple grounds.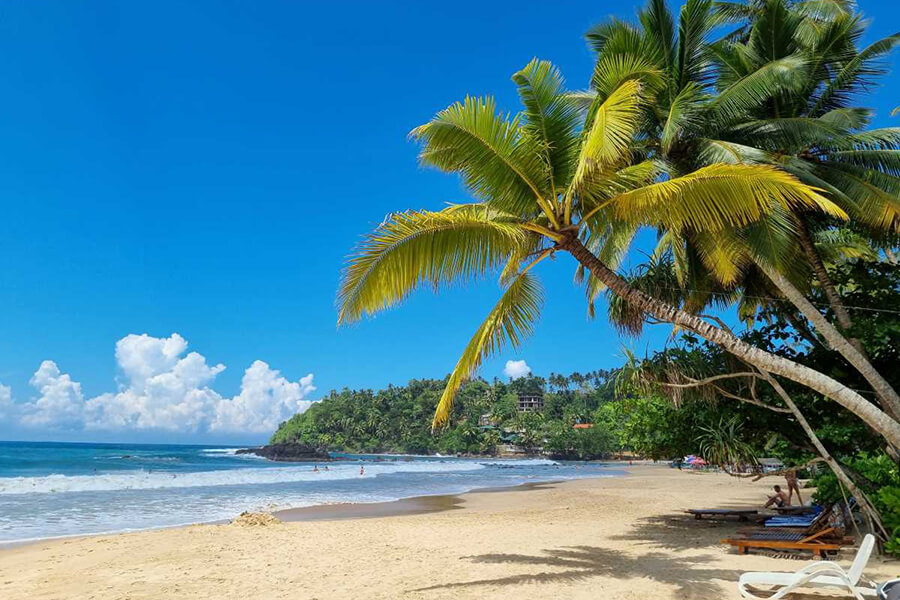 Ticket prices and accommodation for international tourists visiting Mirissa
Ticket prices (USD)
Mirissa is an affordable destination for international tourists, as many options for accommodation and transportation suit different budgets and preferences. Here are some examples of ticket prices (USD) and accommodation for international tourists visiting Mirissa:
– By air:
The nearest airport to Mirissa is Bandaranaike International Airport in Colombo, which is about 180 km away. You can fly to Colombo from many major cities around the world, such as London ($600), New York ($800), Dubai ($300), and Singapore ($200). From Colombo airport, you can take a taxi ($80), a bus ($5), or a train ($3) to Mirissa.
– By boat:
Another way to get to Mirissa is by boat from Galle or Matara, which are two coastal towns near Mirissa. You can take a ferry or a speedboat that will take you along the scenic coastline of Sri Lanka. The price for a boat ride varies depending on the type of boat and the distance, but it usually ranges from $10 to $50 per person.
– By car or motorbike:
If you want to have more flexibility and convenience in exploring Mirissa and its surroundings, you can rent a car or a motorbike from Colombo or nearby towns. The price for renting a car starts from $30 per day while renting a motorbike starts from $10 per day. You can also hire a driver or a guide for an extra fee.
– By bus:
The cheapest and most common way to get to Mirissa is by bus, which is available from Colombo and other major cities in Sri Lanka. The bus fare is around $5 per person, and the journey takes about 4 hours. The buses are usually crowded and not very comfortable, but they are frequent and reliable.
Accommodation
Mirissa has a wide range of accommodation options, from luxury resorts to budget hostels. You can find a place to stay that suits your taste and budget, depending on the location, facilities, and services. Some of the best hotels in Mirissa are:
– Mirissa Beach Resort: This is a 4-star resort that offers spacious and elegant rooms with sea views, balconies, and modern amenities. It also has a swimming pool, a spa, a restaurant, and a bar. The price for a double room starts from $100 per night.
– Mirissa Beach Hotel: This is a 3-star hotel that offers cozy and comfortable rooms with garden views, air conditioning, and free Wi-Fi. It also has a restaurant, a bar, and a terrace. The price for a double room starts from $50 per night.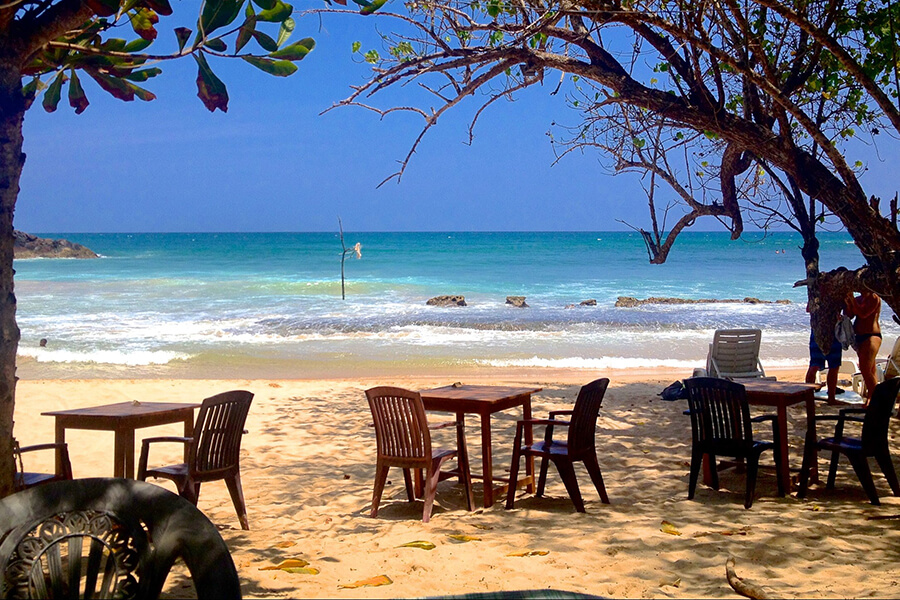 Mirissa's exciting nightlife experiences are full of colors and cheerful sounds.
Mirissa is not only a paradise for nature lovers, but also for party animals. Mirissa has a lively and vibrant nightlife, where you can enjoy music, dancing, drinks, and fun with your partner or friends. Some of the best places to experience Mirissa's nightlife are:
Zephyr Restaurant and Bar: This is one of the most popular bars in Mirissa, where you can enjoy delicious cocktails, beers, and wines with a view of the beach. They also have live music, DJs, and karaoke nights that will keep you entertained until late.
O Mirissa Cafe and Bistro: This is a cozy and chic cafe and bistro that serves tasty food, coffee, and drinks. They also have live music, open mic nights, and quiz nights that will make you feel at home.
Secret Beach Bar: This is a hidden gem in Mirissa, where you can enjoy a romantic and dreamy night with your partner. They have a secluded beach with candlelit tables, hammocks, and bonfires. They also serve exotic cocktails, wines, and snacks that will make your night unforgettable.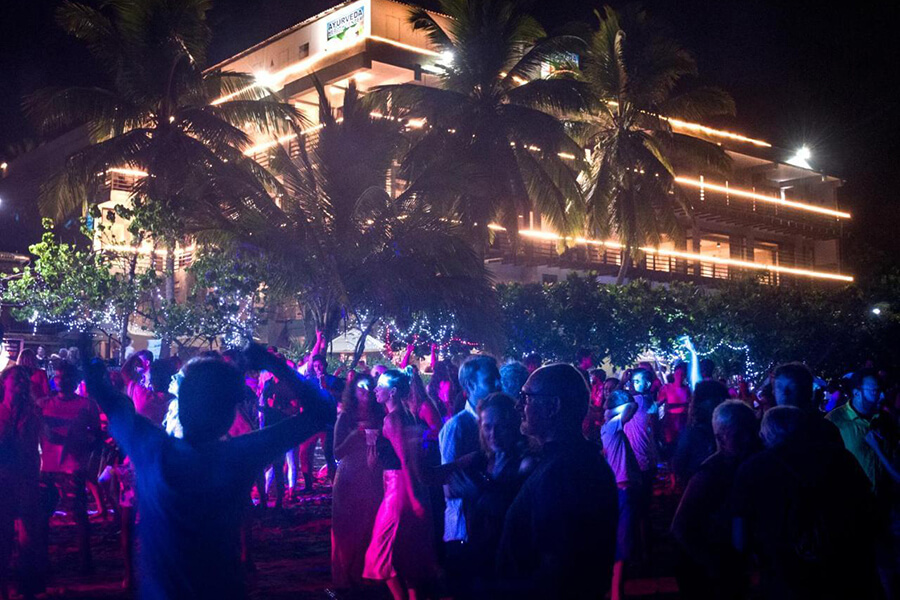 In conclusion, Mirissa is a perfect destination for couples who want to have a romantic and dreamy trip in Sri Lanka.
It has everything you need to make your vacation memorable: beautiful beaches, diverse wildlife, rich culture, delicious food, and lively nightlife. So what are you waiting for? Book your trip to Mirissa there: (Sri Lanka Local Tours) and see for yourself why it is one of the most romantic places in the world.