Sri Lanka Beach Holidays & Tour Packages
World-known by white sandy beaches encompassing the entire island, Sri Lanka has been ascending the must-go list. Fringed by palm trees with azure waters, those beaches, without a doubt, are marvelous locations for beach holidays in Sri Lanka. Sri Lanka Local Tours provides special beach holidays for tourists seeking for sun-bathing, swimming, water sports, diving, and deep-sea fishing. From boutique luxury villas, beachfront hotels to sparing guesthouses, our beach holidays boast many bars and incredible activities in Sri Lanka beaches.
Browse our special tailor-made Sri Lanka Beach Tours & Holiday Packages and get yourselves an itinerary that suits you most. If none of them can be your thing, feel free to contact us and our dedicated specialist will help you to customize the ideal Sri Lanka Beach Holidays for you to enjoy.
---
Top 10 Charming Beaches to-go for the Wonderful Sri Lanka Beach Holidays
Wijaya Beach
My absolute favorite beach of all the Sri Lanka beaches I have seen is called Wijaya beach. It's a clean, white-sanded beach with palms leaning over the water. Don't be surprised when you will see the little turtle heads pop up out of the sea at the end of the day. The coral reef in front of the beach forms a natural swimming pool where you can take a swim. I love it and I am sure that your beach holidays in Sri Lanka will be perfect once being high on life on such a fantastic beach.
Season to go
: December - April and July - September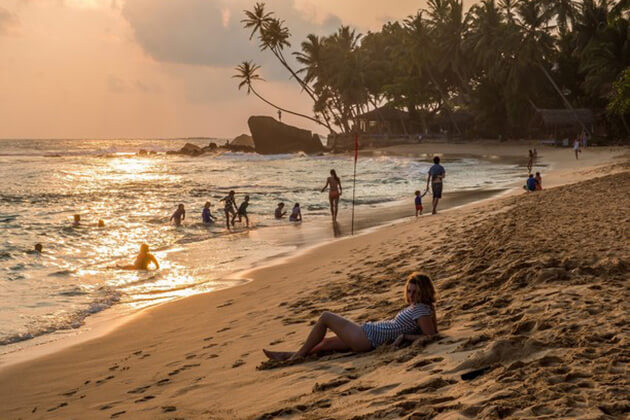 Mirissa Beach
Mirissa attracts all kinds of people, surfers, swimmers, and sunbathers. The 2-kilometer long Sri Lankan beach, divided by the Parrot Rock is full of pretty great restaurants and bars. Mirissa beach is one of the most renowned beaches in Sri Lanka. The left side of the bay is particularly popular with snorkelers while the right side of Mirissa Beach is a great surfing hot spot. You can climb up on the Parrot Rock by walking through the water, but we didn't see any parrots.
Season to go
: November - April and August - October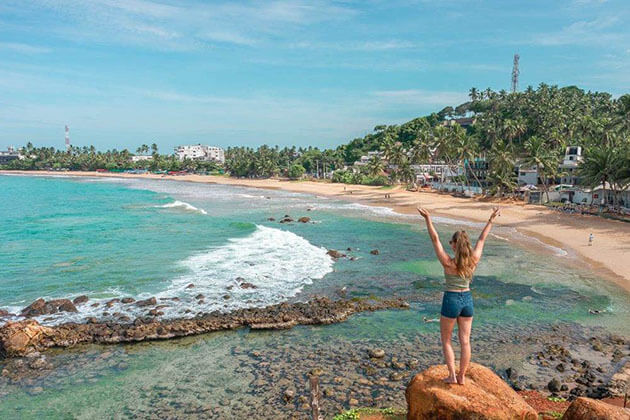 Secret Beach Mirissa
A tiny secluded beach and a little hard to reach. You will notice that there are one small bar and a local lady selling coconuts. Enjoy an incredible sunset from Secret Beach. Find the way to it and, welcome to the chilliest destination for the best beach holiday in Sri Lanka.
Season to go
: November - April and August - October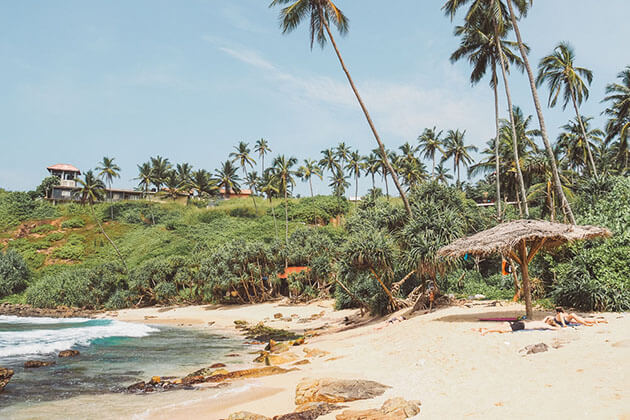 Hiriketiya Beach
Hiriketiya Beach aka Hiri Beach is getting more and more well-known for its waves surfers find Hiri as a perfect place to hang out for a while. Once there, rent a board and maybe get a lesson directly from the guys on the beach.
Season to go
: November - April and August – October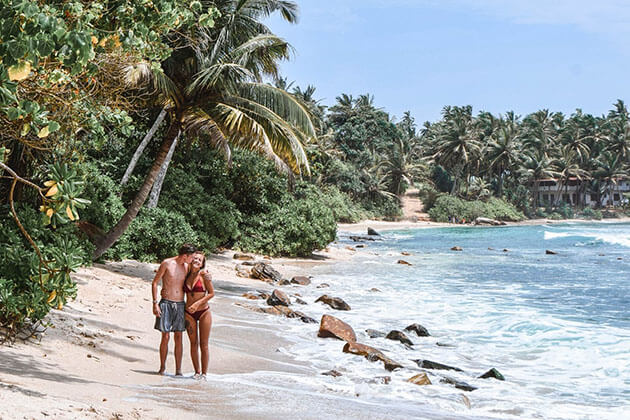 Trincomalee Beach
Trincomalee Beach as well as Nilaveli Beach are 10-minutes away from each other and belong to one of the greatest beaches on the east coast. Tip: From March to August you will have the chance to spot dolphins and whales.
Season to go
: February – August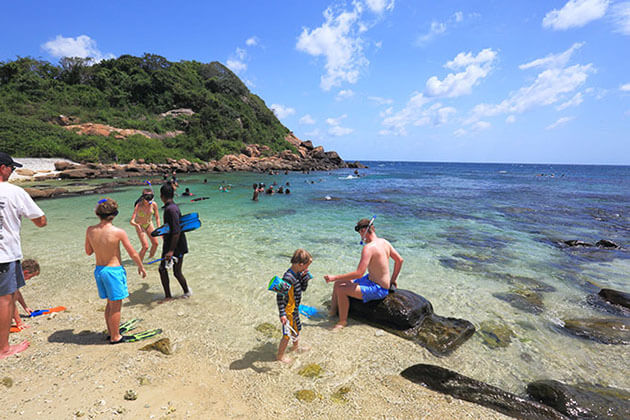 Tangalle Beach
Hidden on the south-eastern coast, Tangalle is one of those Sri Lanka beaches that are made for the paradise seekers. It's a little bit hard to reach since it's dislocated from the usual Sri Lanka route but so worth a visit! Tangalle beach is very quiet and only contains a handful of visible resorts. If you're planning to visit in September or October then, keep in mind that swimming will be difficult due to big waves.
Season to go
: November - April, and May through October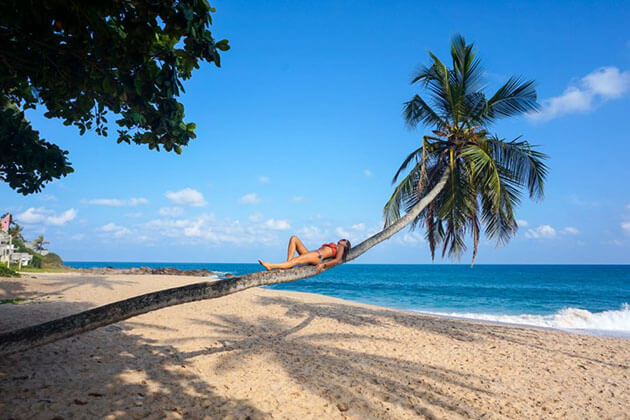 Koggala Beach
Koggala is a quite unknown beach paradise in the deep South of Sri Lanka. It's located between Unawatuna and Mirissa. The white sand and the few people that are on the beach makes Koggala beach a great location to stay for a little while. Also, Koggala has a small rainforest reserve where they offer boat trips.
Season to go
: December - April and July – September
Arugam Bay
Arugam Bay, located on the east coast, is very famous for its surfing points that attract surfers from all over the world. The manifold of them makes Arugam Bay their home during the surfing period.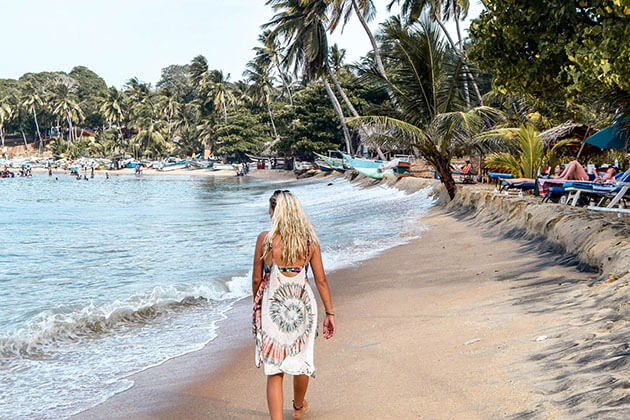 Unawatuna Beach
Swaying palms, golden narrow sandy beach with a few dozen simple beach restaurants and bars. Unawatuna is the most popular beach of the southern Sri Lankan coast. When you say busy in Sri Lanka, you can't compare it to the crowded beaches of Thailand or Spain. Unawatuna is a great laid-back village with the beach located in a bay, which means that you can safely swim.
Season to go
: November – April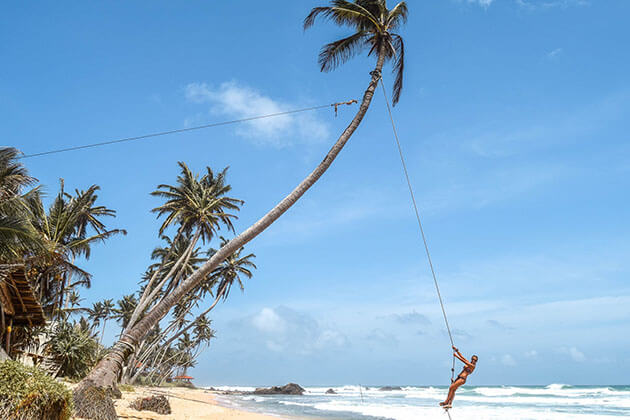 Hikkaduwa Beach
The beach of Hikkaduwa is one of the Sri Lanka beaches that is located on the west coast and the closest to Colombo. Sunsets on this beach are priceless. It's good to stay overnight a little bit out of town since tourism can be a bit crazy in Hikkaduwa center. Also, Hikkaduwa has a few huge turtles that will swim near the beach.
Season to go
: November - April