Sri Lanka, a land like no other, is known for breathtaking beaches, exclusive wildlife, magnificent landscapes, World heritages, and not to mention, friendly locals. From ancient temples to tranquil beaches, from peaceful village to vibrant cities, from colonial architecture to decent skyline, Sri Lanka enables you to explore and experience many incredible things. If you are planning your vacation in Sri Lanka, do not miss out on our list of best places to visit in Sri Lanka which helps you narrow down your choices and maximize your time uncovering highlights of Sri Lanka.
Colombo – The Capital Full of History
Colombo, Sri Lanka's bustling hub and largest city, is one of the best places to visit in Sri Lanka situated on the Western coast. Colombo is not just a gateway to resorts and beaches but also a city full of history with a rich colonial heritage. Sri Lanka's thriving capital which blends old and new and it's a contrast itself, with mansions, lush gardens, fine dining options, shopping malls packed with expensive designer brands standing next to urban slums, diesel-fumed congested roads, and street markets.
It's very easy to get to Colombo by air, and it's a must-see stop in its own right and makes an excellent start for most first-time travelers to Sri Lanka.
Best attractions in Colombo
National Museum: Renowned with exhibits of the 18th-century galleries which are full of intricate carvings, unique masks of demons, swords of the knights and other art collections of local artists in the colonial era.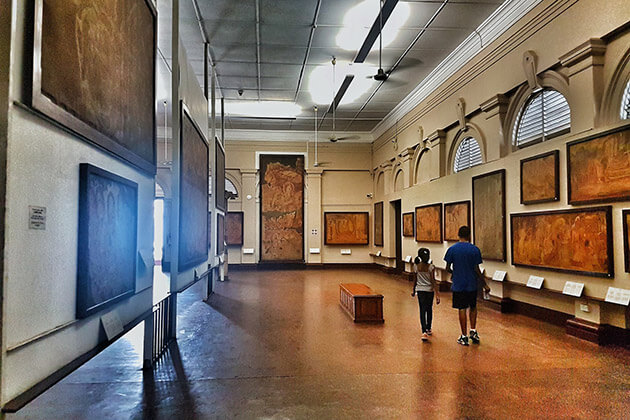 Galle Face Green: a marvelous open space and urban park that allows tourists to stroll along the beach, meet new people and relish the local Sri Lankan cuisine.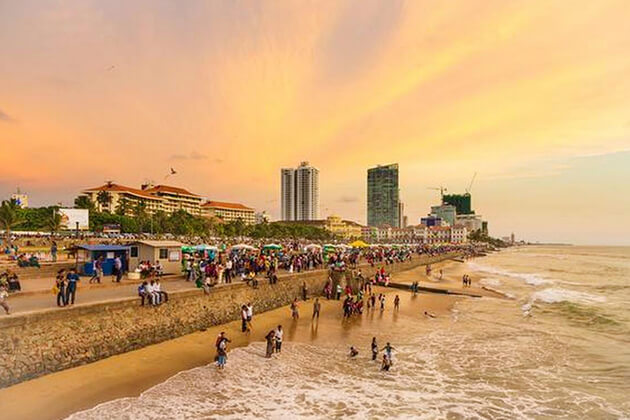 Viharamahadevi Park: a must-visit place in Colombo, comprising a green park, waterfalls, picnic hotspots, walking trails, and an unruffled statue of Buddha.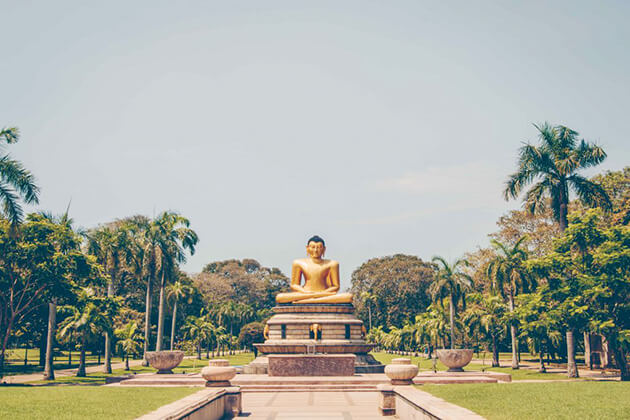 Dutch Period Museum: the 17th-century residence of the Dutch governor, displaying Dutch colonial furniture and artifacts.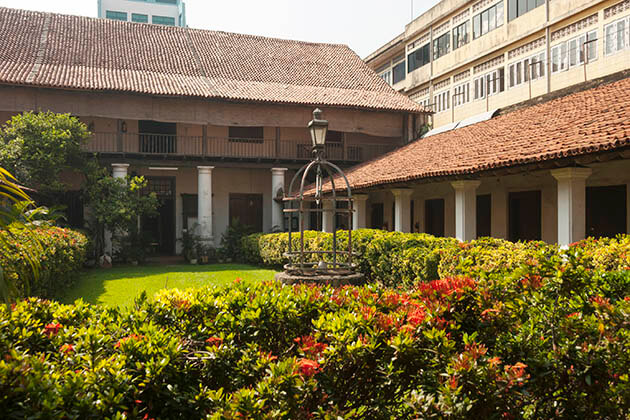 Unique Experiences in Colombo
+ Take an interesting tuk-tuk ride around corners of Colombo
+ Discover Colombo by a cultural walk
+ Learn about Colombo's history and everyday Sri Lankan life
Kandy – Sri Lanka's Cultural Gem
Kandy is in the South of Sri Lanka's Cultural Triangle and is one of the best places to visit in Sri Lanka near Colombo, about a 3-hour drive. Lying amidst the hills in the center of the island, Kandy has awe-inspiring vistas, beautiful plantations, and mountain views. The city with enriching sites was recognized as the cultural capital of Sri Lanka and listed on the World Heritage List. These things make Kandy one of the best places to go on Sri Lanka tours.
Best Attractions in Kandy
The temple of the Tooth Relic: one of the best places to visit in Kandy and Sri Lanka's best-preserved temple that houses a very special relic – a tooth of Buddha brought to Sri Lanka in the 4th century, and the most sacred place of worship among Buddhists all over the world.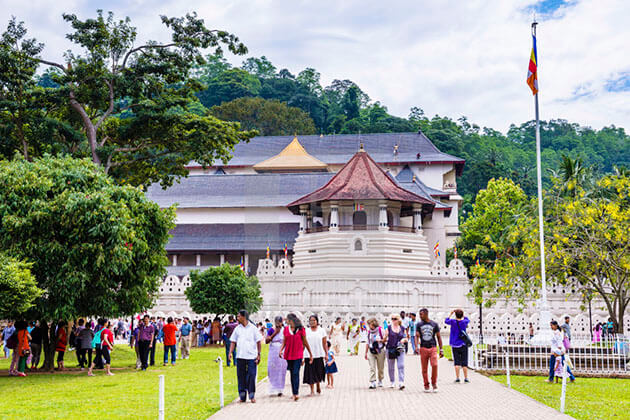 Kandy Lake: one of the most iconic places in the city. People coming here can take a random seat and stare at the peaceful landscape with palm trees, temples shaded on the lake's surface.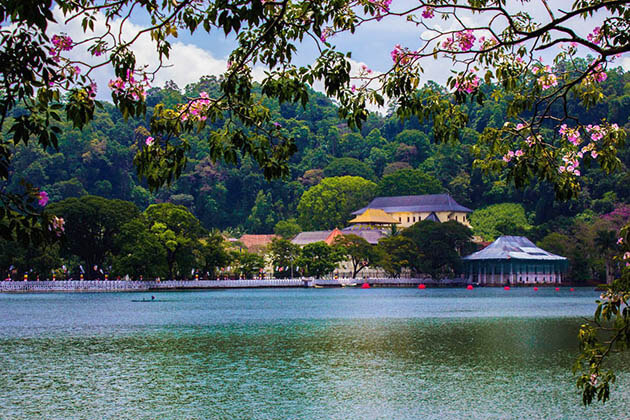 Sri Dalada Museum: this fascinating museum contains a stunning array of gifts donated by many presidents and Buddhist leaders from across the world to the Temple of the Tooth.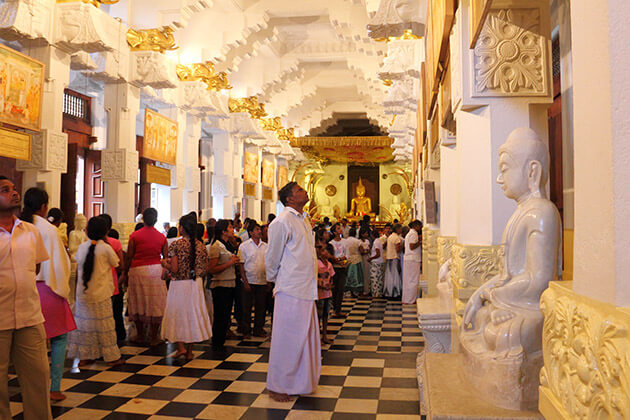 Ceylon Tea Museum has interesting displays of tea pioneers – James Taylor and Thomas Lipton, and plenty of vintage tea-processing paraphernalia. A panoramic view of the Kandy town can be viewed through a telescope mounted on the fourth floor of the museum.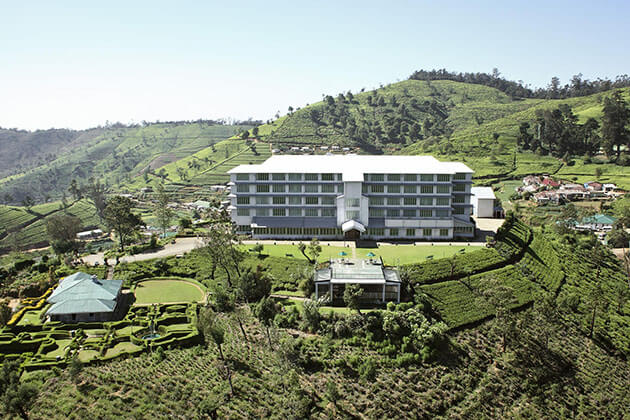 Unique Experiences in Kandy
+ Scenic train journey on the nine-arch bridge from Kandy to Ella
+ Discover the Kandy town by a walking tour
+ Enjoy traditional Kandyan dance performance
+ Learn the art of local Kandyan cooking
Galle – A 16th Century Wonder
Located on the Southwest coast of Sri Lanka, Galle is a wonderful mix of cultures between local and European cultures. That blend makes the city perfectly called the paradise in Sri Lanka for tourists to visit. Founded by the Portuguese in the 16th century, Galle is blessed with imposing Dutch-colonial buildings, grand mansions, and museums. This coastal city has laid-back vibes and charming feel with the old fort area with a lot of restaurants and hotels available for visitors.
Best Attractions in Galle
Flag Rock: the southernmost point of Galle, and also one of the most popular places in Sri Lanka to admire a sunset.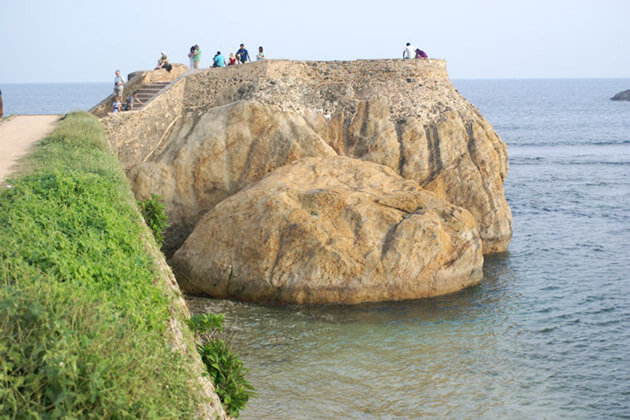 Galle Dutch Fort: was one of the World Heritage, is now the last largest fort in Asia built by Portuguese and completed by the Dutch in the 17th century.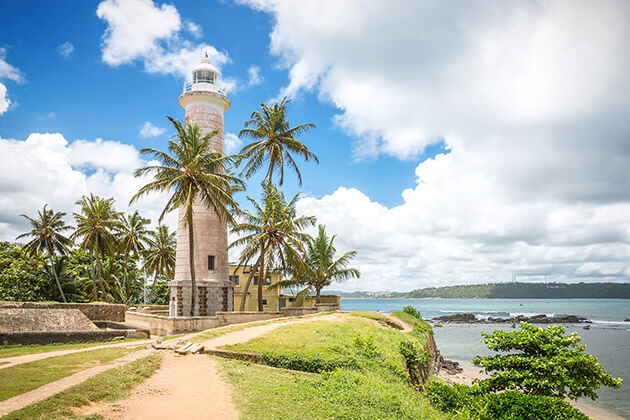 The National Maritime Museum: where you can see interesting examples of old local boats and fishing techniques the local fishermen used.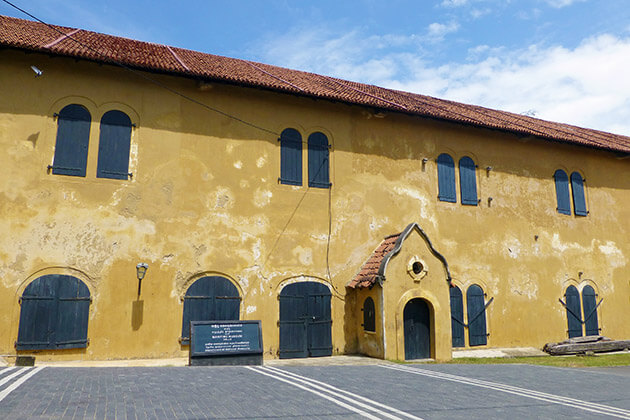 Unique Experiences in Galle
+ History and architecture walk around Galle Port.
+Learn how to cook Biriyani with a port family.
+ Traditional mask-making workshop with a local artist.
Nuwara Eliya – One Step Closer to Untouched Nature
A 3-hour train ride from Kandy, Nuwara Eliya is one of the most beautiful places to visit in Sri Lanka that you cannot give a miss. Nuwara Eliya is a stunning hill country offering a cool climate for tourists to get away from the coastal heat. The unique climate it creates is like that of a typical English town with colonial-era bungalows and clean-cut gardens. The town packed with awe-inspiring landscapes and verdant tea plantations that make it look like an idyllic village. It is also awash with relics of the British colonial period, including country clubs, old hotels, and a golf course.
Best Attractions in Nuwara Eliya
Tea plantations: Immense lush tea hills cascading makes a taste and tale of Nuwara Eliya.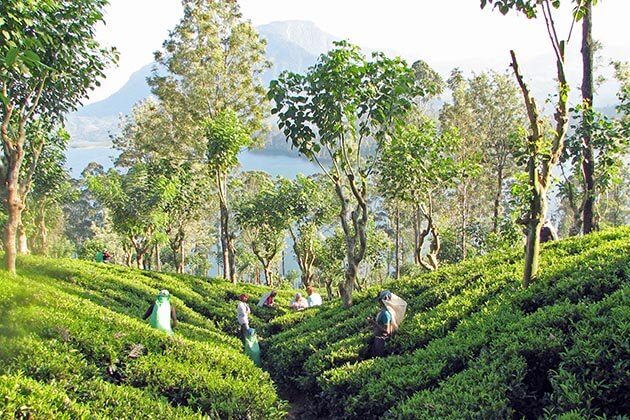 St.Clair's waterfall: situated close to the town of Talawakele, it's the widest and most magnificent waterfall in Sri Lanka, running over a rocky ridge, splitting into three cascades and pouring into a pool.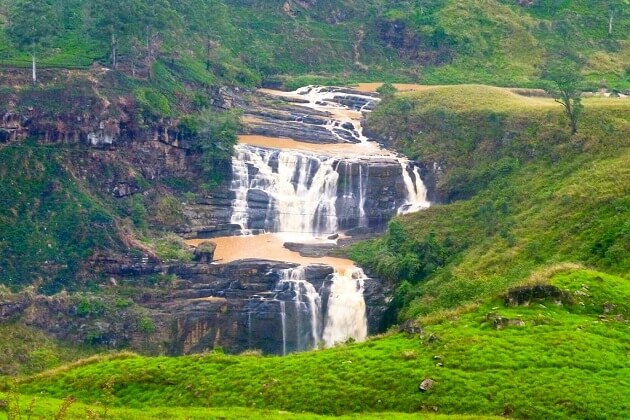 Horton Plains: the coolest and windiest place in Sri Lanka, home to beautiful creatures and breathtaking views.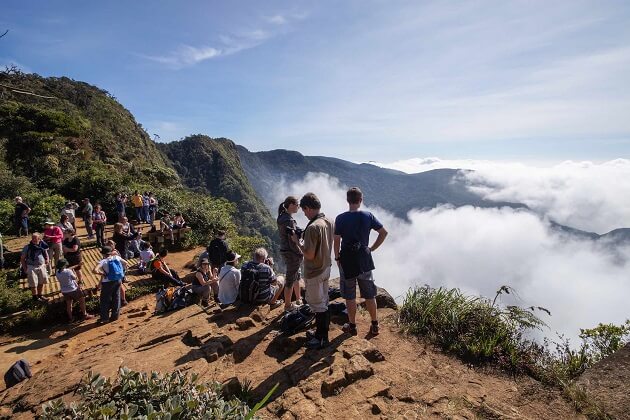 Victoria Park: situated in the middle of Nuwara Eliya city, a nice place to enjoy and relax, with colorful flowers, playing areas for kids and train trips for adults.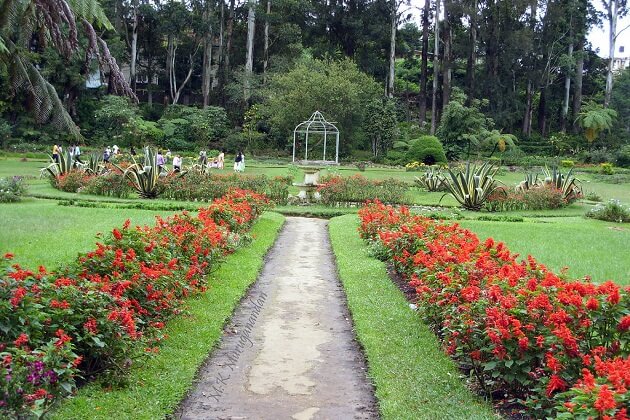 Unique Experiences in Nuwara Eliya
+ Trek through endless tea plantations and Horton Plains at sunrise
+ Sample the world-known Ceylon tea
+ Soak up the colonial atmosphere by wandering around British buildings
Yala – Sri Lanka' Top Tourist Destination
Situated on the South coast of Sri Lanka, Yala has some of its parts reaching the water and touching the Indian Ocean. Thanks to the beautiful light forest, lush plains and briny lagoons, rich wildlife as well as a wealth of culture, Yala is one of the best places to visit in Sri Lanka. Here lie places in and around Yala that you can never forget to visit.
Best Attractions in Yala
Yala National Park: this makes the fame of Yala. Covering a total area of 979 square kilometers, this is a beautiful tourist attraction to see animals as well as the most visited national park in Sri Lanka. Not only leopards, a herd of elephants, aquatic birds, buffalo and monkeys living in their natural habitats can also be seen here. Thus, Yala is completely the best adventure places to visit in Sri Lanka.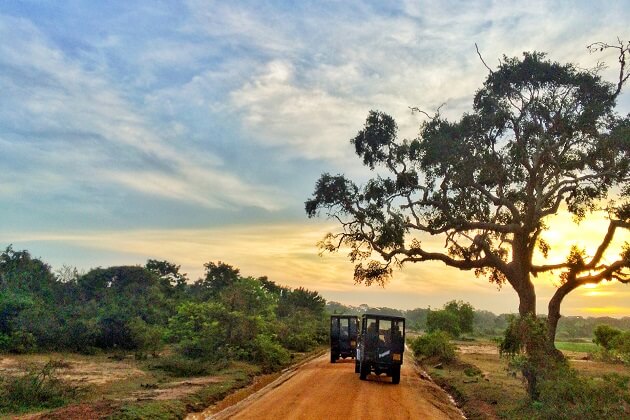 Asokaramaya Buddhist Temple: built in the 1870s with the purpose of providing shelter to the disciplines of Aluthgama Sangharatne who arrived to witness the Monk's sermons, the temple is one of the best Yala tourist places after wandering in Yala National Park.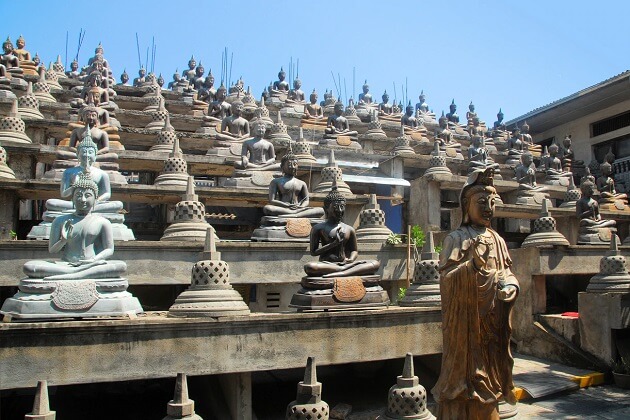 Kalutara Bodhiya: a must-see religious place in Yala, highly acclaimed by all the Buddhists in Sri Lanka.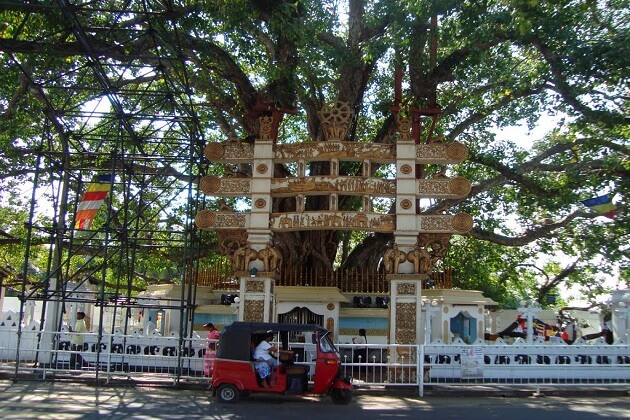 Buduruwagala: the stunning rock-cut Buddha figure is considered Yala's biggest attraction which is nearly 1000-year-old.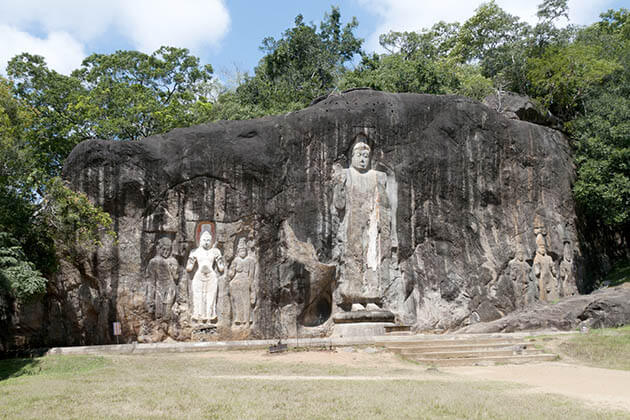 Unique Experiences in Yala
+ Wildlife discovery in the world's most beautiful national park
+ Understand the animal behaviors and the park on unique safari jeeps with soft-tops
+ Enjoy peaceful tranquility in Asokaramaya Buddhist Temple
+ Admire beautiful and interesting paintings in Kalutara Bodhiya
Mirissa – A Mesmerizing Town with Instagrammable beaches
Mirissa is a small town located in Matara District which is close to the Southern tip of Sri Lanka and only 200km to the Equator. Mirissa is nothing kind of a tropical paradise and a heaven for the seafood lovers. As the largest fishing port on the South Coast, the town is well-known for its tune, mullet, snapper, and butterfish. It's also the best places to sit back, relax and forget about all the hustle and bustle of your other life that's a million miles away. Mirissa boasts some of the best places to visit in Sri Lanka for couples and the most stunning sunsets and sunrises.
Best Attractions in Mirissa
Mirissa Beach: affording a picturesque view of the sunset, often filled with surfers in the mornings and is a good place for beginners to start surfing.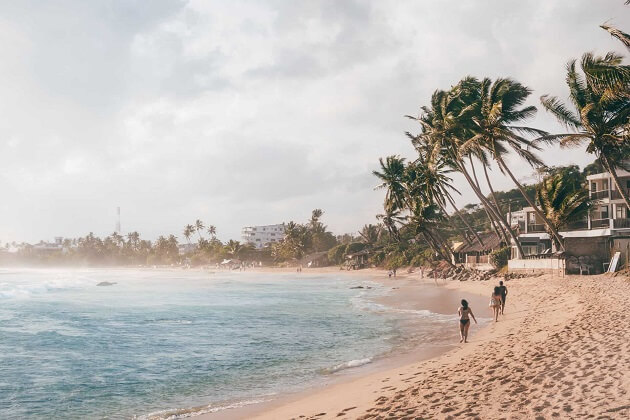 Weligama town: an amazing blend of lively fishing town and beach resorts.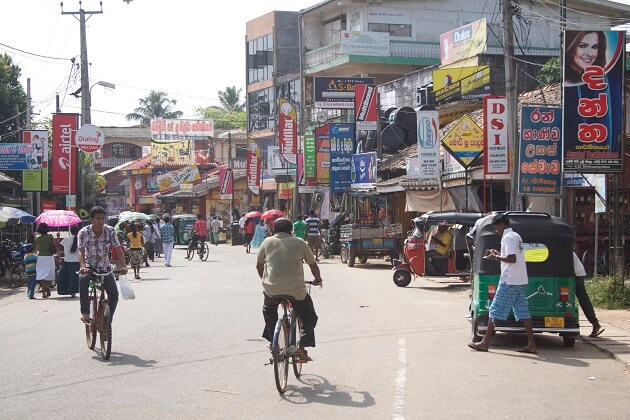 Parrot Rock: The best place to catch the view of Mirissa.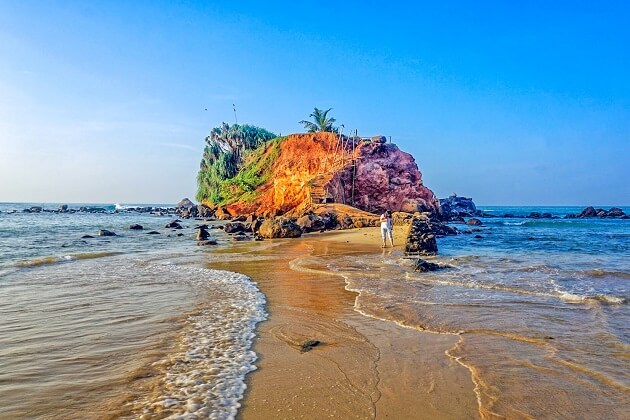 Coconut Island: a load of coconut palm trees that create a point of magical view, with a cool beach and bar beside.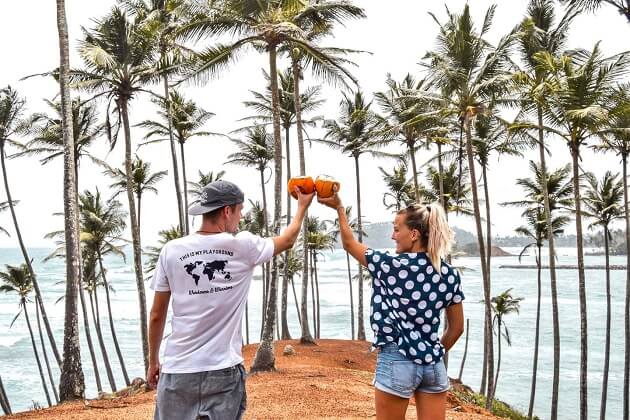 Unique Experiences in Mirissa
+ Hit up white sand Mirissa beach with beautiful clear water
+ Amusing Mirissa whale watching and wave surfing
+ Admire Mirssa sunset from a rock overlooking the beach
+ Experience fishing on stilt in Weligama beach – a unique fishing way of Sri Lankan people
Sigiriya Rock Fortress – Imposing Place amidst Greenery
Sigiriya is highly recommended in your list of best places in Sri Lanka to visit. This mount of remembrance is a World Heritage Site and one of the most popular tourist attractions in Sri Lanka. This giant rock formation jump stands out of a verdant landscape, over everything in its vicinity. On top of the rock is a palace built by one of Sri Lanka's ancient kings. To reach the peak, you will pass over the entrance of colossal Lion's Paws craved into the bedrock and climb a number of vertiginous staircases attached to sheer walls. During your climb, you will see impressive wall paintings engraved into the rock. Water gardens, cave shrines, and remnants just add to Sigiriya's appeal.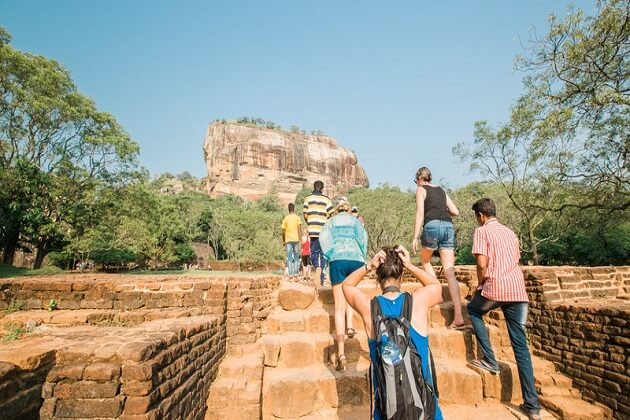 Other Attractions
Pidurangala Rock: adjacent to Sigiriya Rock, slightly lower, a prominent spot for the sunrise of Sigiriya to enjoy 360-degree views of lush valleys
Sigiriya Museum: This decent museum provides an excellent overview and explains Sigiriya's cultural importance beyond transparent natural beauty.
Unique Experiences
+ Scenic climb to the peak of Sigiriya Rock Fortress and Pidurangala Rock
+ Bird's eye view of Sri Lanka's Cultural Triangle at the top of Sigiriya rock tower
+ Go on a hot air balloon ride
Dambulla – Sri Lanka's Largest Temple Complex
Dambulla is believed to have been of a worshipping place since the 1st century BC, when King Vattagamani Abhaya, driven out of Anuradhapura and took refuge here. Dambulla is the most popular among the best places to visit in Sri Lanka as it is home to unique cave temples. It displays a wide range of Sinhalese Buddhist Art in a small carven filled with statues and fine work of murals created by the King when regained his throne. The following paintings were made by later kings and the process of retouching original and creating new artwork continued into the 20th century.
What makes Dambulla special is that it is located on the junction of cultural cradles of Colombo – Trincomalee, and Kandy – Anuradhapura roads. This provides a convenient base for visitors and makes Dambulla one of the best places to visit in Sri Lanka.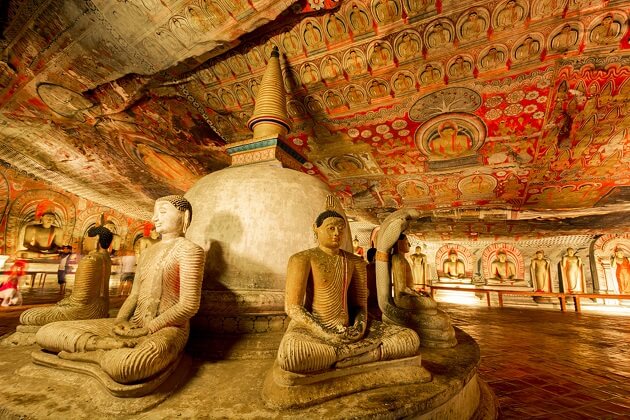 Best Attractions
Cave of the Divine King: housing a striking statue depicting the parinibbana (the last moment) of the Buddha in the typical style is about 47 feet in length. It is carved almost in the round from the natural rock and is well preserved.
Cave of the Great Kings (Maha Raja Viharaya) is by far the largest and most impressive temples in the complex. The temple cave is painted all over in brilliant colors and is room for 53 statues in different attitudes looking calm and peaceful.
Dambulla Museum: a must-see tourist attraction in Dambulla. The unique kind of museum in Sri Lanka allows visitors to witness and study the wall paintings uncovered by researches and preserving paintings damaged by nature and insects.
Unique Experiences
+ Interesting discover the UNESCO Dambulla Cave Temple Complex
+ Take a moment to enjoy the expansive views of nature and natural side
+ Give try to a portion of pittu – steamed rice flower patty with a savory sauce
Arugam Bay – Turquoise Paradise
The Southeast bay of Sri Lanka is considered as one of the best places to go on a trip in Sri Lanka thanks to its moon-shaped curl of soft sand, tranquil water, alluring palm trees, and captivating ambiance. Arugam Bay is definitely one of the best destinations in Sri Lanka for beach lovers. Home to a famed point break, the bay is a surfer's background that any surf lover should not give any miss. In such a tiny place of a few hundred Sri Lankans who mark everything along a single road which parallels the coastline. Hence, the laid-back beach has drawn surfers, sun-seekers, thrill-seekers and cultural enthusiasts to Sri Lanka.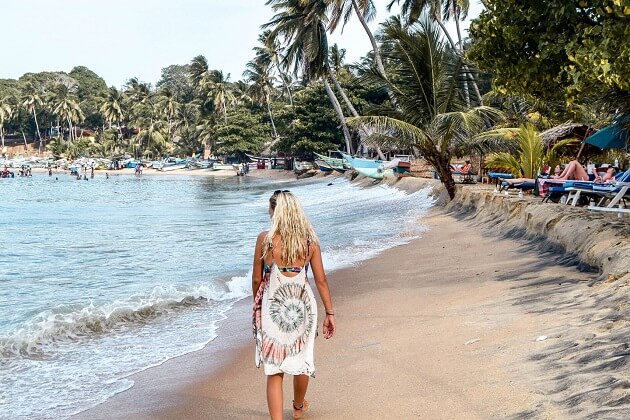 Best Attractions
Arugam beach: the beautiful beach and long crescent sand never fail for tourists to chill at all day. The beach is one of the best places to go with your friends in Sri Lanka.
Kumana National Park: a natural theme park where you can see a heap of elephants and even spot a leopard
Tanama Tank: a stunning landscape and perfect place for taking photos.
Pottuvila and around: a small town with a delightful lagoon, a good surf break, and a few intriguing ancient ruins.
Unique Experiences
+ Arugam Bay surfing in one of the world's top surfing destinations
+ Get some exercise and relax with yoga lessons guided by locals
+ Unwind with the traditional Ayurveda treatment
+ Exploring Arugam Bay by an exciting ride on a scooter
+ Searching for crocodiles, monkey and myriad birds in Pottuvil
Trincomalee – an Unmissable Beach Escape
Trincomalee – "Lord of the Sacred Hill" is an enchanting coastal town but among uncommon places to visit in Sri Lanka as this city located 250 km Northeast of Colombo. Scattered with a mix of holy shrines like temples, mosques, and churches and surrounded by hilltops, wildlife, and rock formations, Trincomalee is a great escape from the crowded south.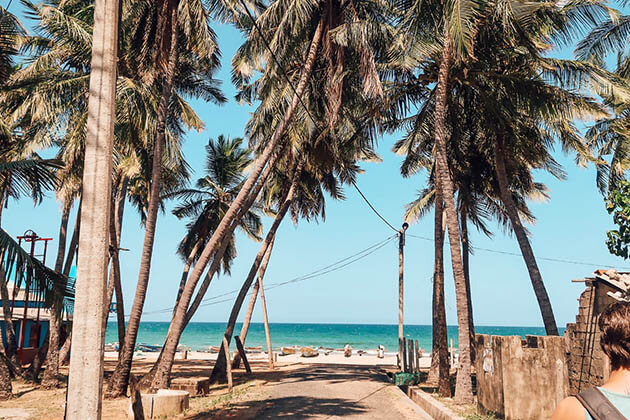 Best Attractions
Koneswaram Temple: an obligatory tourist attraction to visit in Trincomalee. This colorful and majestic temple is a religious pilgrim center and is one of the five "Pancha Ishwarams" (abodes of Shiva) constructed in coastal regions of Sri Lanka to honor the supreme god of Hinduism and adorned with a giant blue statue of Shiva.
Nilaveli and Uppuveli beaches: fines beaches with palm-lined sand, mellow ambiance and fun travelers' scene
Pigeon Island National Park: a living museum within a natural setting of volcanic rocks and lush thickets, vibrant marine life, powdery white sand, and shallow turquoise water.
Fort Frederick: like many fortifications in Sri Lanka, Fort Frederick was constructed by subsequent European invaders with an imposing entrance. It's a must-do for history and nature enthusiasts.
St. Mary's Cathedral: the most appealing of the city's churches exuding warmth and tranquility.
Unique Experiences
+ Explore local life in bustling fish markets
+ Spotting blue whales from viewpoints at Koneswaram or via boat excursions
+ Sailing and snorkeling on a catamaran
+ Enjoy stunning sunsets on finest beaches of Sri Lanka