Located in the Indian Ocean between 2 large cultures: Western and Eastern culture; therefore, Sri Lanka owns the diverse of its culture from costumes, dances to cuisine. If you are a studious tourist and have the desire to deeply understand the cuisine culture of Sri Lanka, you should not miss tasting yummy foods there, which is the best chance to enjoy culture in a unique way – by the tongue. Let Sri Lanka Local Tours explores the beauty of Sri Lanka food culture through top 10 foods to eat in Sri Lanka.
2 Best Sri Lanka Food
Kottu Roti
Kottu Roti is Sri Lanka's hamburger which is served fast and can take away. Kottu roti is Godamba roti similar to pancake: flat, crispy but it is made of rice instead of wheat, this roti is fried in the early morning and served as it is ordered. This dish is the combination of roti and ingredients you choose; when you make an order, roti will be fried and chopped with ingredients chosen and during preparing time, skilled roti chefs will make you feel very relax instead of stressful to wait by some songs to reduce the clack of metal equipment, it is exactly an exciting experience of a mixture of music and cuisine. It is time to taste yummy of this dish when eating Kottu, you can dip or pour all spicy curry sauce over your entire plate, the roti is still crispy and mingles with the salt and light spice of the topping, all of which make eaters be effusive in compliments.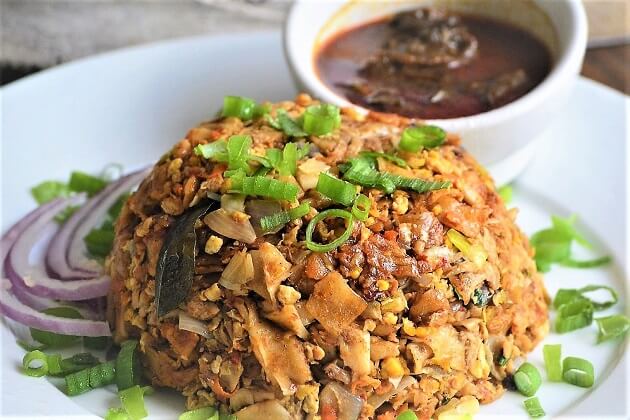 Lamprais
Lamprais is the evidence that Sri Lanka is the crossway of diverse cultures; the name 'Lamprais' is a combination of two Dutch words: 'Lump' and 'rice'. This dish is a mixture of meat, rice, sambo chili sauce, wrapped banana leaf. A bowl of rice is placed in the center of the banana leaf, covers the mixed meat curry, 2 frikkadels which are Dutch-style beef balls, Blachan that is shrimp paste and a starch or vegetable. All of them are parceled in a packet and done to a turn by steam.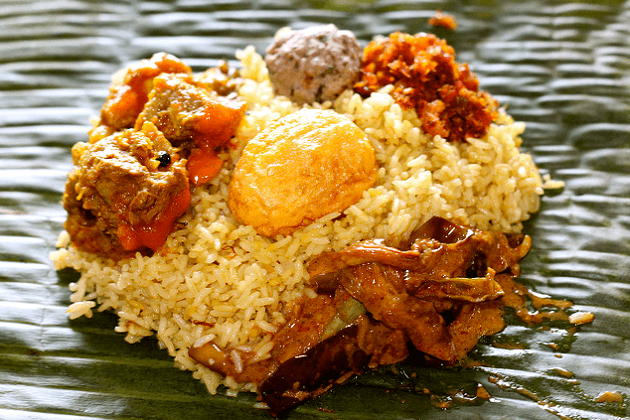 4 Typical Shapes of Curry in Sri Lanka
Parippu (Dhal Curry)
Known as Dhal curry, Parippu is the most popular curry of Sri Lanka cuisine. Dhal curry is made from masoor dhal which is red lentils; Masoor is cooked with coconut milk until it is soft at a particular level. Onion, tomatoes and fresh green chilies are sauteed and mixed with hot spices like cumin seeds, turmeric, fenugreek, mustard seeds, and curry leaves. All ingredients are mixed and taste more creamy with coconut milk.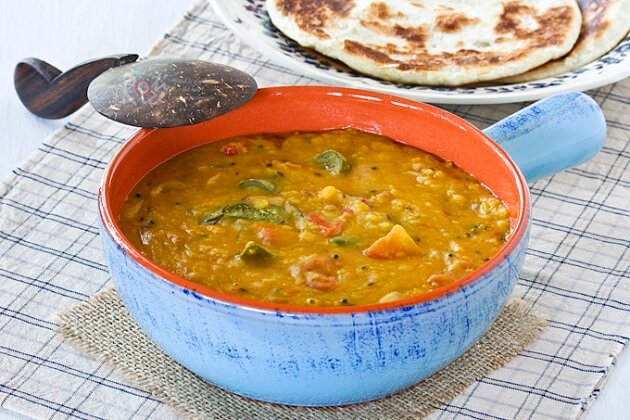 Kukul Mas Curry (Chicken Curry)
If Paripu is the most common curry in Sri Lanka, Kukul mas curry is surprisingly simple, known as a common household dish in Sri Lanka. Flavors like fennel seeds, cardamom, cloves, and cinnamon sticks are oiled before being mixed with chicken and other spices: curry powder & leaves, chili powder, turmeric, pandan leaves, and lemongrass. Chicken after being combined with spices is stewed in about 1 hour until the spice is infused into the chicken. This dish will be perfect if it is eaten with hot rice and roti.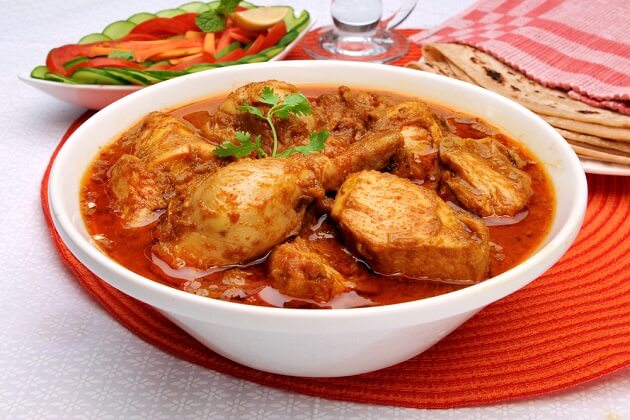 Fish Ambulthiyal (Sour Fish Curry)
Fish ambulthiyal is a dry curry dish which means all the ingredients are simmered with a small amount of water and cooked until the liquid reduces. The fish often tuna is cut into cubes, then fried in a powder of spices including black pepper, cinnamon, turmeric, garlic, curry leaves; especially dried goraka, a small fruit giving fish a sour taste. This should be eaten with rice.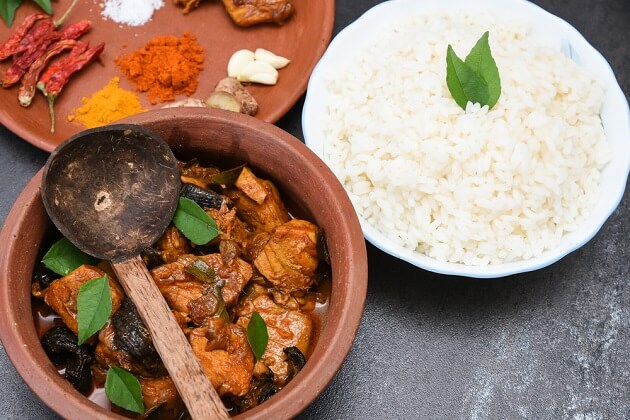 Polos (Green Jackfruit Curry)
Polos is a Sri Lankan curry cooked with young green jackfruit. The fruit is cut into bite-sized chunks and boiled until soft. After that, it is cooked with onions, garlic, ginger, mustard seeds, turmeric, chili powder, roasted curry powder, pandan leaves. Polos is a standard dish available at most Sri Lankan curry restaurant.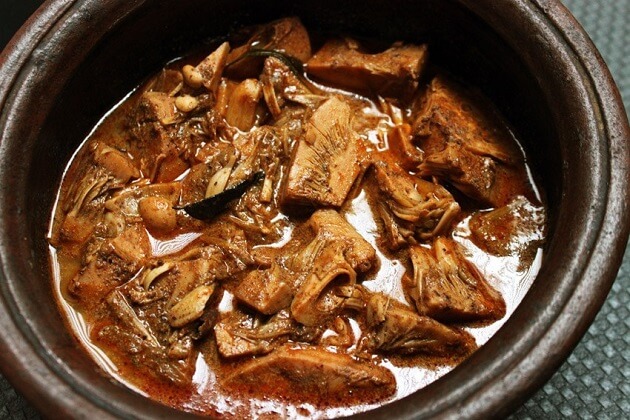 Hoppers (Appa or Appam)
Hopper known as Appa or Appam is a Sri Lanka pancake. The batter made from coconut milk, rice flour and a spoon of sugar is sautéed in a small wok and swirled around until becoming a thin batter. An egg is cracked into the inside of hoppers, shaped the pancake-like 'Egg in the hole'. After all, we have an egg hopper that can be sweet or savory depending on the spice adding into this Sri Lanka pancake; however, whether it is sweet or savory, it is a yummy dish you should not miss.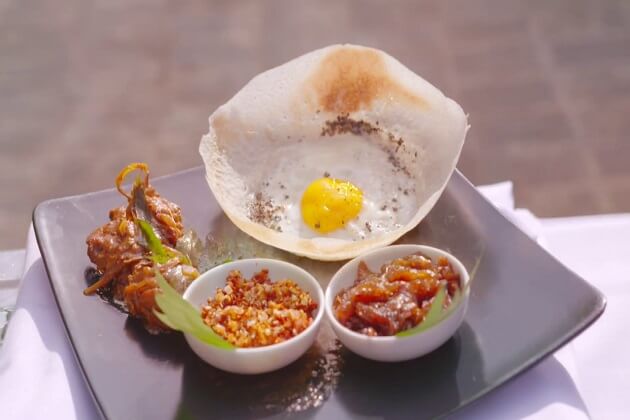 Gotu kola Sambol (Pennywort Salad)
Gotu kola sambol is a green vegetable salad. Gotu Kola is an Asian medicinal herb. It is sliced into slivers and blended with shallots, tomatoes, fresh grated coconut and chili, salt, pepper, and lemon juice. It is often tasted with curry and rice.
Sri Lanka Muslim Food
Wambatumoju (Eggplant/ Brinjals Pickle)
Wambatumoju is a traditional dish of Muslim, which is flavorful purple-skinned, slender eggplant with a soft silky interior. When tasting Wambatumoju, you can feel hot pungent from green chili and chili powder and mustard seeds, slightly sour from vinegar, sweet from the sugar.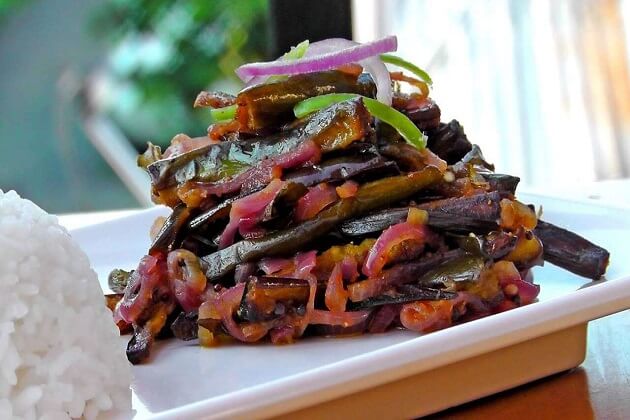 Pol Sambol (Coconut Relish)
Pol Sambol is called fresh coconut relish, grated coconut, red onions, dried chili and chili powder, lime juice, salt, and especially Maldive fish are cut into cubes and blended in a bowl. It will be a perfect combination when you eat Pol Sambol with rice and curry or dipped with slices of bread. No word can describe this feeling so you should taste and feel by your tongue; that is the best garnish you can enjoy.