Sri Lanka is known as the 'Wonder of Asia' which not only belongs to many wonderful sights but also owns special features of the South- Asian culture. One of the most special aspects of Sri Lanka culture is dancing, which makes memorable impressions in tourist's minds. Tourists do not need to be a native but through the traditional dancing. Let Sri Lanka Local Tours and this article give you some essential information about Sri Lanka traditional dance.
The 5 Sri Lanka Famous Dances
The Kandyan Dance
The Kandyan Dance is the national dances in Sri Lanka in vogue under the dynasty of the Kandyan Kings. The dancers 'costumes are striking; male dancers dress a skirt- like a garment with their naked chest with silver regalia and their head wears a spectacular headgear like a peacock and takes drum GataBaraya which is used especially for Kandyan dance. The distinctive point of Kandyan dance which makes it become National dances of Sri Lanka is the content behind this dance. Kandyan dance describes the scenes of Ramayana drama or stories of kings and heroes and each movement of a dancer is exactly vivid, imitates the movement of animals such as peacock, elephant which are supernatural animals in Sri Lanka. The Kandyan dance includes 4 smaller kinds: Ves Dance, Udekki dance, Pantheru dance, Naiyandi Dance.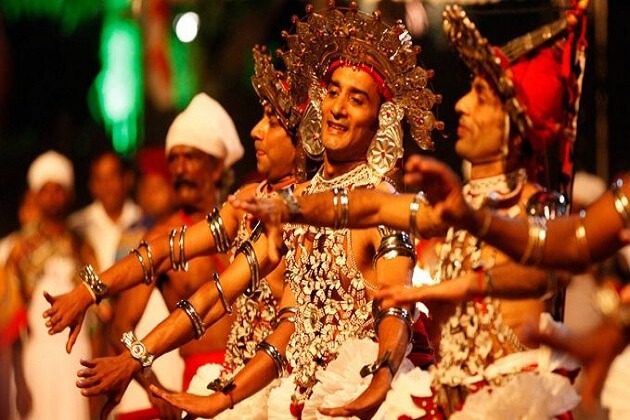 Ves Dance
Ves Dance is a unique Kandyan or up- a country form of dancing performed at religious processions and ceremonies and other kinds of occasions and ceremonies. This dance shows the honor of God 'Kohomba' of the Kohomba tree and invokes his blessings. In the ritual dance, only men perform to show the strength in the movement of this dance and they often wear sparking garments: metal ears neck and arms and breastplates glistening with shiny bead and frilled dresses.
Udekki Dance
Originating in a small lacquered hand drum 'Udekki', Udekki dance is an impressive dance which is made the beliefs that it can connect humans with the Gods. In this dance, there are 2 drumskins said to be given by the God Iswara, which is really difficult to play and the dancers sing while he plays, tightening the strings to obtains the variation of pitch.
Pantheru Dance
If Udekki dance is related to God Iswara, this dance is used to dedicated to the goddess Pattini, which originated in the days of Prince Siddhartha, who became Buddha. The Panthers dancers wear no beaded jacket and substitutes and this dance is performed to celebrate victories on the battlefield.
Naiyandi Dance
To perform this kind of Sri Lanka traditional dance, dancers will wear Naiyandi costume and display Naiyandi dance during the initial preparations of the Kohomba Kankariya Festival. This is a graceful traditional dance in such a country and is performed in Kataragama Devales temples and Maha Visnu on ceremonial occasions.
Low Country Dance – Masked Dance – Devil Dance
This Sri Lankan traditional dance is known with different names: Masked dance and Devil dance. The name 'Masked dance' has the origin from the costume of dancers in this dance; when performing the Low Country Dance, the dancer wears masks to describe different creatures such as demons, birds, reptiles, etc to show the killing by the Gurula of Cobra. Besides, the dance is also performed as a ritual ceremony to turn out evil spirits and a method of psychiatric treatment that is the reason why Low country dance is called devil dance.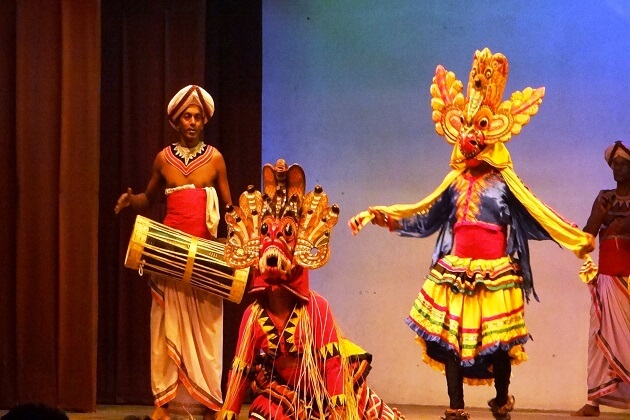 Sabaragamuwa Dance
Sabaragamuwa Dance is a traditional dance performed to worship the God of Saman. The legend tells that the origin of this dance derives from an exorcism ritual called the KohombaKankariya, which is shown by Indian shamans from the island of Sri Lanka. Different from the Kandyan Dance frequently performed by male dancers, Sabaragamuwa dance allows both males and females to show it and another interesting information is that you can taste a little Kandyan dance and a tiny Low Country dance in this kind of dance because it is the combination of two kinds above.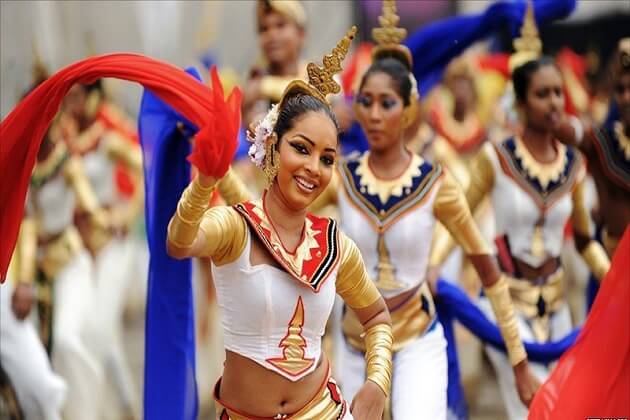 Folk Dance
Another type of classical dance, folk dance associated with folk festivities and activities. Folk dance in Sri Lanka consists of Polkatu (coconut), Raban (hand drum), Kalageti (pot dance), Leekeli (stick dance).
Dance Drama
Another type of traditional dance in Sri Lanka, dance drama (Kolam) is performed by dancers wearing animal masks or kings or high officials. The dance is rather providing amusement and social satire than ritual. The fact that Kolam has been developed from the ritual which is known as Sanni Yakuma and later, this dance has become a dance drama ritual elements.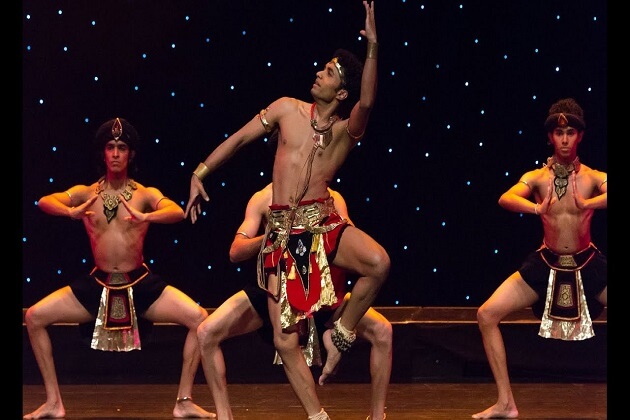 Where to Watch Sri Lanka Traditional Dances
If you talk about the folk dances and ritual dances of the Sabaragamuwa style, and the Devil Dance, they are usually performed in the local areas or the villages to entertain the local people. However, sometimes, you may also find them at some theatres. Some of the famous theatres to watch the dances of Sri Lanka are:
KGH – King George Hall of the University of Colombo
Navarangahala of the Royal College, Colombo
Elphinstone Theatre & the Nelum Pokuna Mahinda Rajapaksa Theatre
The Lionel Wendt Art Centre
The Nelung Arts Centre
These artistic communities combine live theatre and art exhibition, with exhibition galleries and theatres. Thus, if you look at Sri Lanka, it is a diverse country rich in culture and heritage, making it the center of attraction all over the world. These were some of the popular dance styles of Sri Lanka which attract people to this beautiful country. So, when in the country make it a point to experience the cultural Sri Lankan dance.