Where there you are looking for an outdoor adventure or a total relaxation, getting into Sri Lanka tours will be always great. Of course, to totally enjoy a trip to Sri Lanka, you need Sri Lanka money – Rupees. Is there anything you don't know about Sri Lanka currency? If yes, don't worry. In this article, I will show you all the things about Sri Lanka currency, ATMs, banks, cards, and the exchange rate of Sri Lanka money.
What is Sri Lanka Currency – Things to Know
Sri Lanka official currency (LKR or Rs) is a floating currency, which means that the exchange rate is determined by market forces. But, the Sri Lankan government, sometimes, intervenes to keep the exchange rate from fluctuating too much.
As you might know, one Rupee – Rs. 1 is made up of 100 cents. There is a total of 6 coins and 8 banknotes currently in circulation. The 6 coins are 25 cents, 50 cents, Rs. 1, Rs. 2, Rs. 5, and Rs. 10. The 8 banknotes are Rs. 10, Rs. 20, Rs. 50, Rs. 100, Rs. 500, Rs. 1000, Rs. 2000 and Rs. 5000.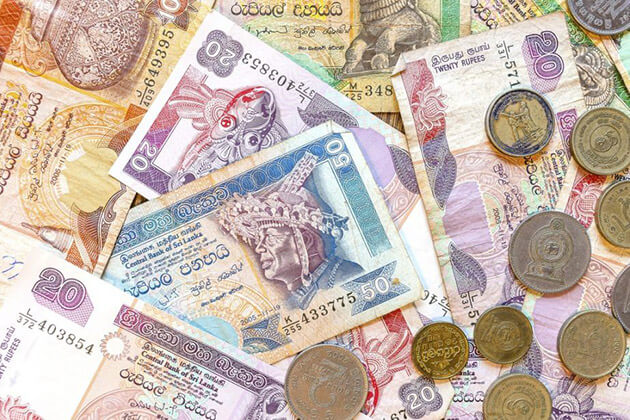 Change can be hard to come by in Sri Lanka, outside of hotels and big shops. Just ensure that you have enough notes in lower denominations from Rs. 20 to Rs. 500, especially if you plan to shop at markets or in remote areas.
Sri Lanka Currency & Exchange Rate
I highly recommend you not to buy Sri Lanka Rupees ahead of time. As you might not know, the Sri Lanka Rupee is not considered the official currency in Sri Lanka; thus, you are likely not to get a good rate if exchanged outside of Sri Lanka. The fact that you can only carry up to Rs. 5.000 into Sri Lanka. Also, you will need to change your money back before you leave the country as the government's policy does not allow you to legally take more than Rs. 5.000 out of Sri Lanka.
Exchange services can be found at the airport currency exchange kiosks or many hotels in Sri Lanka; however, the exchange rate tends to be usually unfavorable as you may be charged high fees. You are better of using a currency exchange service or making an ATM withdrawal.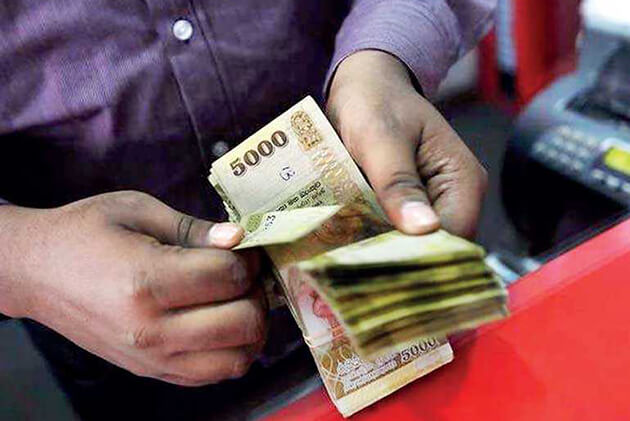 You can easily catch unlicensed money changers on the streets of major cities. It is better to avoid them though you seem to be offered much better exchange rates than banks or exchange bureaus. You will be easily scammed as they use sleight of hand to give you less money than you are due.
One thing you should notice that some currency exchange services will tell you that they charge no fees or commissions. Do you trust them? Please, don't. It is not true. If there is no fee, the company makes its profit by building it into an exchange rate that is unfavorable. Keep in mind that you should always compare the exchange rate that you are offered to the mid-market rate. As long as the banknotes are clean and crisp, Banks and exchange bureaus in Sri Lanka accept most major currencies. One thing is that if your bills are damaged or torn, ready to be refused.
Some Exchange Rates of Sri Lanka Curreny
1 USD ~ 181 LKR
1 EUR ~ 193 LKR
1 GBP ~ 235 LKR
1 INR ~ 2.5 LKR
1 AUD ~ 122 LKR
1 CAD ~ 137 LKR
Traveler Cheques in Sri Lanka
You should know that cheques rarely have favorable rates and cashing them is truly a challenge in Sri Lanka. Manifold Banks in Sri Lanka have rather short opening hours as Mondays – Fridays (9:00 am – 1:00 pm) and unfortunately, most don't accept them.
Credit & Debit Cards in Sri Lanka
Credit and debit cards are widely accepted in the country, even you are in a small town. Visa and MasterCard are the most prevalently accepted cards. AmEx is also accepted but to a lesser extent. So, it is better to carry some cash with you just in case. You may also come across establishments displaying their prices in $US, especially in more touristy regions. While it is convenient, you have to constantly ensure that the transaction is performed in the local currency.
It is illegal to perform a card transaction in a foreign currency in Sri Lanka. Additionally, if you opt to be charged in your home currency, the exchange rate will be determined via Dynamic Currency Conversion (not the mid-market rate). Please note that it almost constantly results in an unfavorable exchange rate.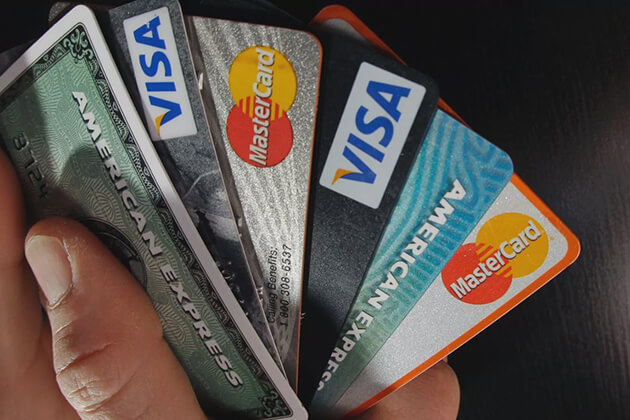 Keep in mind that you must let your bank know the dates you will be abroad because if you don't, it might think your transactions in Sri Lanka are fraudulent that may result in your card which is frozen for security reasons.
ATMs in Sri Lanka
ATMs are prevalent in Sri Lanka and most of them work with MasterCard (Cirrus & Maestro), Visa (Plus) or even AmEx. As long as you opt to be charged in the local currency, ATMs usually provide a much better exchange rate than bureaus. Withdrawals in Rs are calculated using the mid-market rate and if you opt to be charged in your home currency, otherwise, the ATMs will use DCC – Dynamic Currency Conversion to make up an exchange rate for you that always results in a not favorable deal.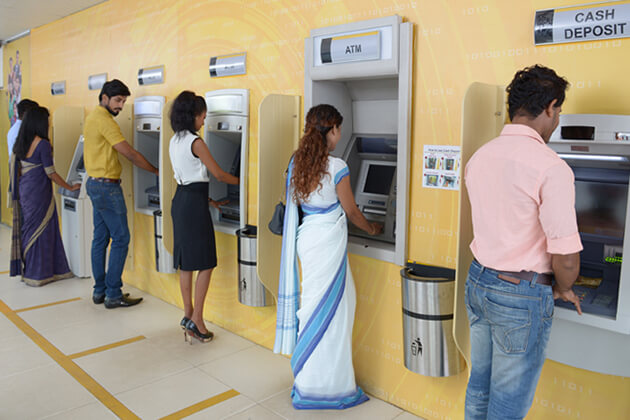 Fees & Limits in Exchanging Currency in Sri Lanka
You need to watch out for fees even using ATMs is the easiest and most convenient way to get the best exchange rate. You will be charged a fee for every transaction by ATM operators in Sri Lanka. It is often between Rs. 200 and Rs. 300. Perhaps, your home banks charge fees too. You can usually expect to be charged an ATM access fee as well as a foreign exchange transaction fee.
Also, ATMs in Sri Lanka have per-transaction limits which are usually between Rs. 40.000 and Rs. 60.000 depending on the bank. Some newer ATMs, perhaps, allow you to withdraw up to Rs. 80.000 in one go. Otherwise, keep in mind that your bank back home, perhaps, have per transaction along with withdrawal limits.
Sri Lanka Banks
The banking system in Sri Lanka is modern and easily accessible. In fact, there are over 25 banks operating in Sri Lanka. These consist of renowned international banks like HSBC and Standard Chartered. Honestly, it is worth checking with your bank whether it has a partnership with a Sri Lanka bank. And if it does, you perhaps, are able to use the partner bank's ATMs free of charge or at a reduced cost.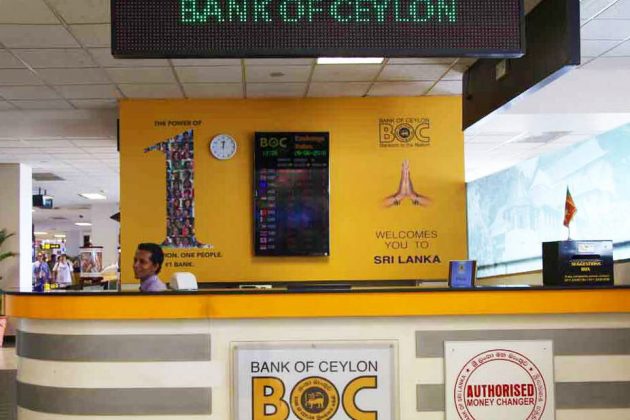 In Sri Lanka, the largest bank is the Commercial Bank of Ceylon having 250 branches and 625 ATMs across the country along with operations in Bangladesh. ICICI Bank is another large bank which is an Indian multinational with operations in 19 countries consisting of Dubai, Qatar, and the US.