Known as 'little England' in Sri Lanka, Nuwara Eliya is endowed with beautiful scenery covered by the green and blue. Farms are covered with the green of trees and the huge waterfalls open to your eyes, the scent of plants is mingled in the winds and the flows of water murmurs down the small lake. All of them combine and create a perfect therapy to alleviate stress and sows effectively. If you plan to take a trip to relax with family and friends after a busy time, Nuwara Eliya is the best choice for you. I myself got into manifold Sri Lanka vacation packages and today, I would like to recommend the 10 top-rated Nuwara Eliya attractions that I really enjoyed.
Top 4 Natural Destination to Visit in Nuwara Eliya
Victoria Park
If Nuwara Eliya is known as 'little England' in Sri Lanka, Victoria Park will be a piece of lively evidence for that. The name 'Victoria Park' is named after Queen Victoria of England to commemorate the 60th coronation of Queen Victoria in 1897. With the size of 27 acres, Victoria Park is the population of any foreign species of trees and plenty of rare birds. Visiting this park, tourists have the chance to go birdwatching, take photos with beautiful natural views especially blooming of flowers during April annually or flocks of rare birds in every corner of this park. Victoria is an ideal attraction for kid tourists, at the end of the park, there is a small children's playground which includes many games and because of the location of this park, it is very safe for kids.
Entrance fee: LKR 355/ person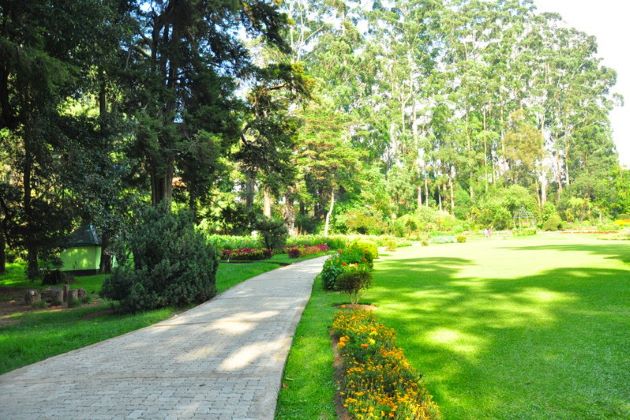 Lover's Leap Waterfall
Taking a 3 km trip from the Nuwara Eliya town, tourists will meet an impressive sight – a 30 m high abrupt waterfall called Lovers leap falls. This name brings a legend inside: a prince while hunting in the forest, unfortunately, lost his way. He was secured by a beautiful damsel and then they fall in love with each other and became 2 inseparable lovers but their love is forbidden and two decided to eternalize their beautiful love by leaping from the top of the fall. Although it is hard for tourists to reach the top of the mountain because of the slippery, tourists should stand on the top of this waterfall, you can see the overall picture of the Nuwara Eliya town which is so superb and wonderful.
Entrance fee: Free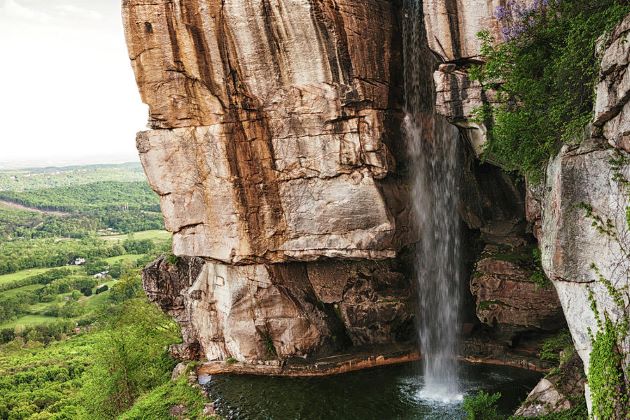 Gregory Lake
Gregory lake was constructed by Governor William Gregory in the period from 1872 to 1877 to make use of water from the Naru Oya. This lake is a recreational area in which tourists can go sailing, hide a swan-shaped pedal boat for sightseeing in its surrounding view. Besides, tourists also have a picnic on the riverside, have a small party and view the beautiful scenery and your children playing in the nearby playground. What a perfect camping site in Nuwara Eliya!
Entrance fee: LKR 250/ adult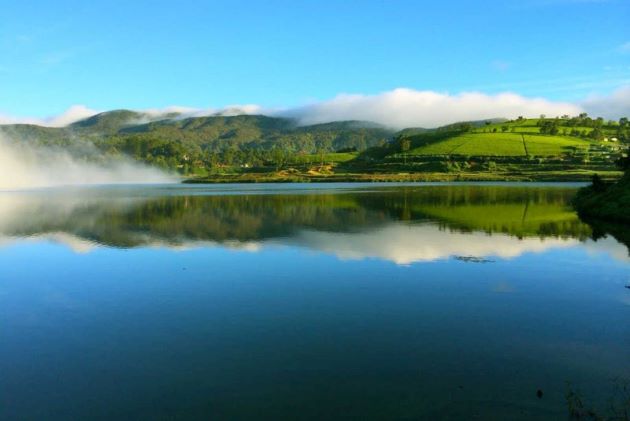 Hakgala Botanical Garden
Hakgala Botanical garden is the best choice for nature lovers. Launching in 1861, it is a garden situated at the altitude of 1745m above sea level, owns a huge variety of flowers and exotic plants. This garden is divided into 6 sub-gardens like Upper Flower garden, Fernery, Rock Garden, Arboretum, Rosegarden, and glasshouse.
Entry fee: LKR 1513/ person.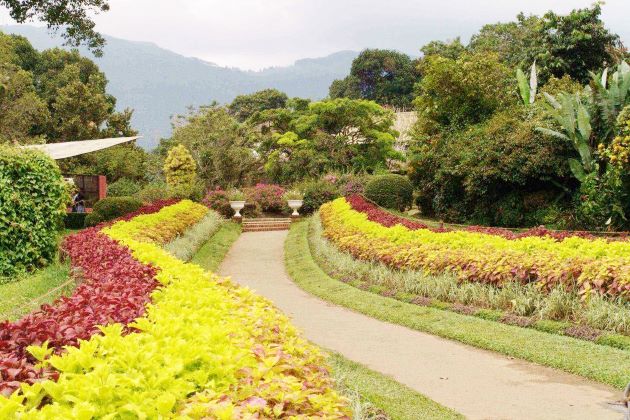 Top 4 Exhilarating Places to Visit in Nuwara Eliya
Moon Plains
Moon plains are one of the best places to sightsee panoramic mountains in Sri Lanka. Visiting Moon plains, tourists should not miss the mini Worlds End at the edge of this plain which is a wide-open area giving you a 360-degree view of the surrounding towns. From this situation, tourists have chances to view herb of cows, buffaloes, deer grazing grasses together and if you are lucky, you are able to see 105 bird species whereas 16 of them are endemic to Sri Lanka. Besides, you can view the peak of 9 mountains in Sri Lanka like Single Tree Mountain, Pidurutalaga, Great Western Mountain. To explore the whole moon plains, you should persuade 5-7 other people to hire a safari jeep from locals with the budget about INR 2000/ jeep for 45 minutes -1 hour which is not too expensive but very convenient.
Entrance fee: Free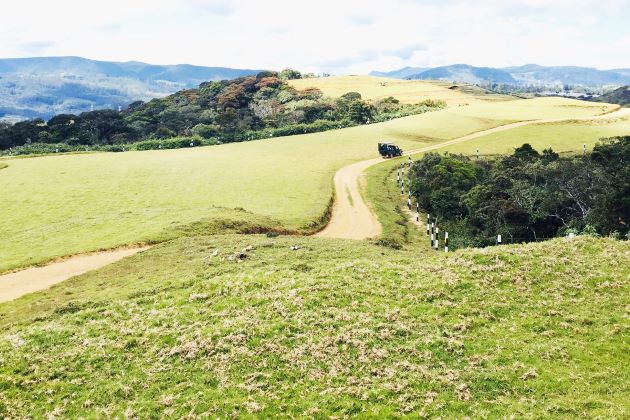 Petro Tea Estates
Being well –known as the home of many famous Sri Lanka kinds of tea, Nuwara Eliya owns many tea plantations and tea factories but Petro Tea Estates is the most typical and beautiful tea farm there. For a few minutes away from the town, tourists can stand in front of the huge natural scenery; the green hill of tea spreads out to the footage of horizon, opening the chest and breathtaking the fresh air there, you will feel the scents of tea mingled in each wind, your mind will be refreshed and better. Moreover, tourists also explain the tea-making processes for eminent kinds of tea like Ceylon black tea, Ceylon green tea, Ceylon white tea and of course, perceive the taste of fresh tea there.
Entrance fee: LKR 237/ person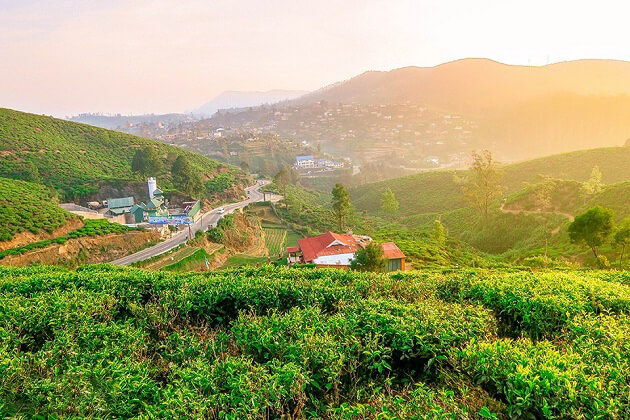 Ambewela Farm
Ambewela farm is known as 'Little New Zealand' owing to its large green grass spread over a large area. It is a huge soft grass where you can use your bare feet to walking around and see a herd of cows that graze grasses relaxingly. Moreover, you can visit milking farms where you have opportunities to do the milking by yourself and buy fresh unpasteurized milk and milk products.
Entrance fee: LKR 263/ person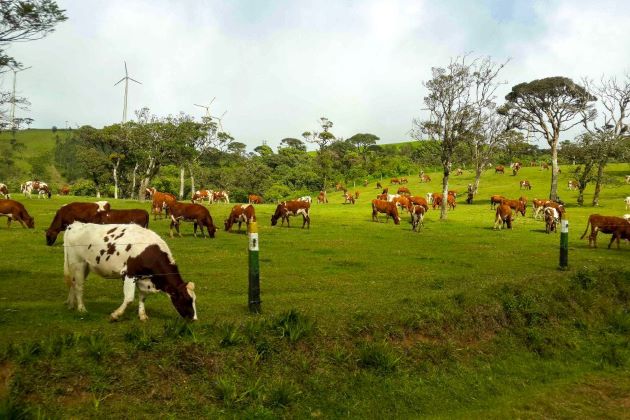 Strawberry Fields
Visiting one of the many strawberry fields in Nuwara Eliya is an unmissable experience for tourists. Fields spread out with the red of beds of juicy strawberry during season time. What a picturesque scenery in Nurawa Eliya! We believe you will not prevent yourself from picking a juicy strawberry to taste sweet in each vibe of your tongue. That is the good news for you, you can take part in the harvest of strawberry; however, you will get a fee to experience that. Besides, farms also sell strawberry products such as fresh strawberry, strawberry jam, and strawberry juices.
Entrance fee: Free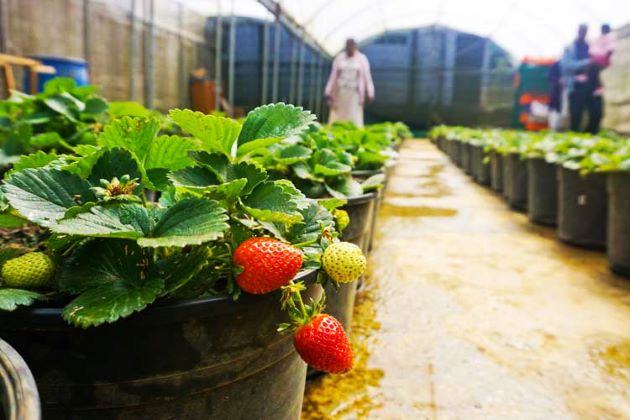 The 2 Unique Places to Visit in Nuwara Eliya
Seetha Amman Kovil
Seetha Amman Kovil is a striking and sculptured temple which is located among the misty mountains and tall pine trees. The legend says that it is where Ravana – the king of Lanka captured Sita – the wife of Rama according to Ramayana's story. The Lord Hanuman was sent to rescue Sita at this temple. Nowadays you can see footprints that are believed to be Lord Hanuman's in the temple. Annually, the celebration of 'Rama Navami' is taken place in this temple on March 28th.
Entrance fee: Free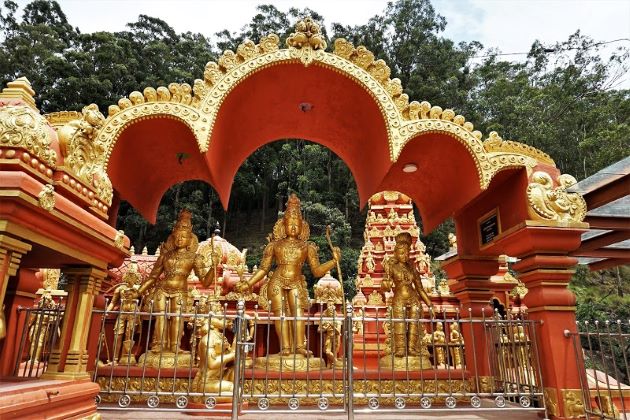 Bale Bazaar – Winter Market
Bale Bazaar is called 'The Winter Market' it is so strange to attract tourists when there is a market provides winter-related products in a country where the winter is not real in Sri Lanka. However, it is maybe a particular way for Nuwara Eliya to enjoy the artificial winter atmosphere through their winter-related products. If you would like to buy something related to winter in Sri Lanka, Bale Bazaar is a good choice for you because the price of products is quite cheap and you can bargain with a lower price.
Entrance fee: Free