Mirissa is one of the most well-known tourist attractions in Sri Lanka and also is the paradise belonging to a golden beach in the South Coast of the country with cooling weather around the year. Endowed with the stunning beach and pretty scenery, Mirissa is so popular for long palm-fringed beach and thrilling nightlife. When going to Mirissa, visitors should not miss some exciting activities: contemplating whales and dolphins or enjoying night parties besides the coast. So, if you have a plan to have Sri Lanka tour packages and want to spend time on Mirissa, I would like to list several famous places and thrilling activities to high on life.
Top 5 Charming Places to Visit in Mirissa
Mirissa Beach – Paradise in the Earth of Sri Lanka
If you're asking me one of the best attractions in Mirissa, Mirissa beach – absolutely. It is a small- size paradise of sunshine, wind and golden sand. Not a bustling shore like Hawaii beach in the high season, it belongs peaceful beauty all year round where visitors can leisurely take it easy below long ranges of green palms, listen each crash of the waves licking in golden sand. One unique point which hardly looks for any beaches now is that Mirissa still remains the origin and clean without litter or plastic.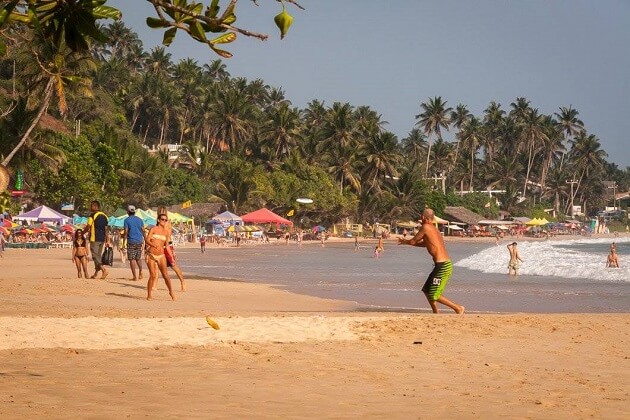 Weligama Bay – Sandy Village along the Beautiful Mirissa
Lying in the Matara District of Sri Lanka, Weligama Bay has a special meaning "Sandy Village" owing to the postcard setting of blue sea, soft sand, and green palm. When traveling to Weligama Bay, you definitely cannot leave Taprobane, invisible offshore under a thick covering of palm trees. The prettiest part of this bay is Taprobane, which owns colorful catamarans floating on the beach with fishing services for tourists.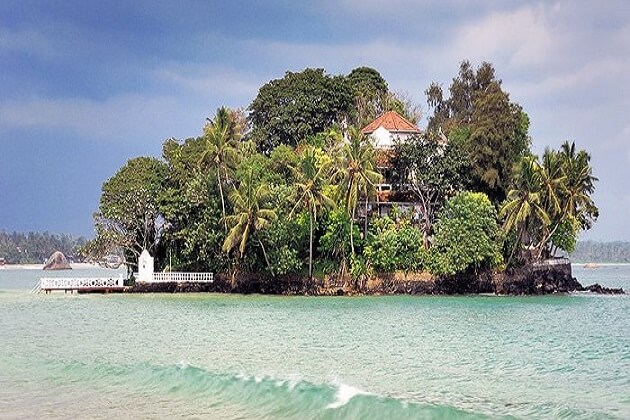 Kushta RajagalaStatue – Legendary Statue in Mirissa
Mirissa is not only well known for the long sandy shore but also famous for historical sites like Kushta RajagalaStatue. It is also called as 'Statue of Leper King' and shrouded in plenty of legends, one of which is the depiction of a foreign king afflicted with the curse of leprosy. This statue is best known for 2 elements: Murky history and artistic detail.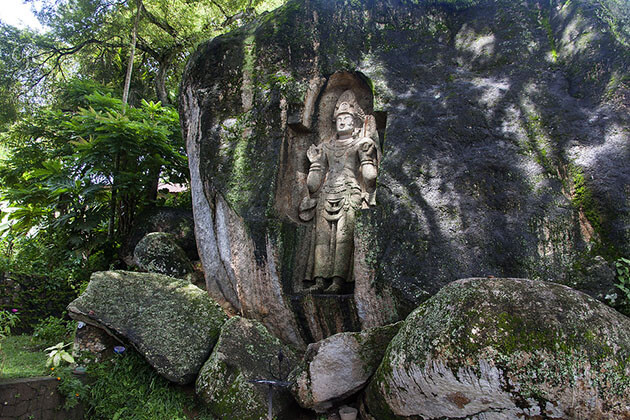 Secret Beach Mirissa
When I first was there, I could not believe the scenery I saw at that moment. No word could describe this wonderful attraction. Located in the neighborhood of Mirissa beach, Secret Beach is a wild seashore and the only way to reach there is catching a Tuk-Tuk and then walk to the shore inside. Good news for you is that you do not need to pay an entrance fee; instead of that, the residents make money by serving foods in the beach bar and renting day beds for tourists. Secret beach is a combination of 3 beaches with various activities: Blue Lagoon for having day beds overlooking the beach, Palm Cove for exploring the picturesque bay with golden sand and green palm, Shelly Beach for snorkeling and scuba diving and sightseeing ranges of crystal rocks. The best time in a day is Sunset, take a camera and you will have a dozen of beautiful pictures catching this wonderful moment of Secret beach.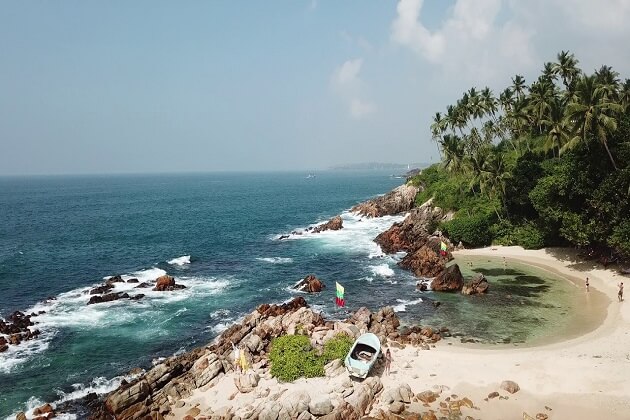 Coconut Tree Hill
Do you want to indulge yourself in a real summer paradise? Well, here you are. Coconut Tree Hill is one of the best- known attractions in Mirissa that you should not miss there. From Mirissa beach, tourists spend 10-15 minutes on walking across Bandaramulla temples to reach this pretty land. It is a population of many palms standing beside the blue beach and sun-kissed sand, all of which make this place become an ultimately impressive scenery. The best time to visit Coconut tree hill is in the morning or before sunset. One of the interesting activities there is catching sunset moment in the headland of this hill.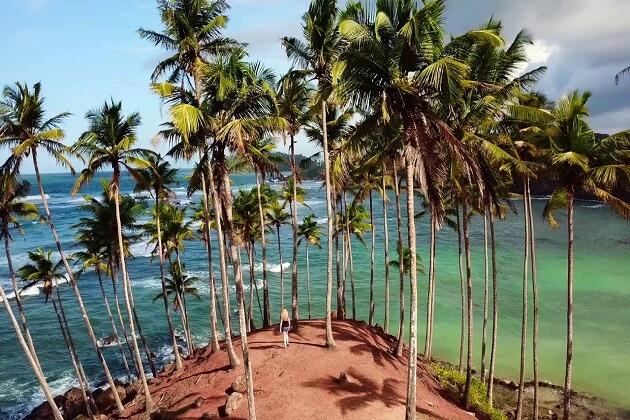 Top 5 Fascinating Things to Do in Mirissa
Going Whale Watching in Mirissa
One of the most interesting activities that tourists cannot miss when visiting there is watching whales and dolphins, situated from the southern coastline of Sri Lanka. The best time to experience it is from December to April when the marine mammals immigrate to the area among the Indian Ocean and the Antarctic landmass for the annual breeding season. In the morning session, this trip lasts 3-4 hours starts at 6:30 am. Taking part in this trip, tourists have opportunities to sightsee 26 different species of whales traversing this region including friendly dolphins there; moreover, lucky tourists have pretty chances of sighting the Blue whale.
The fee: 1500LKR- 6000LKR ($10-$40)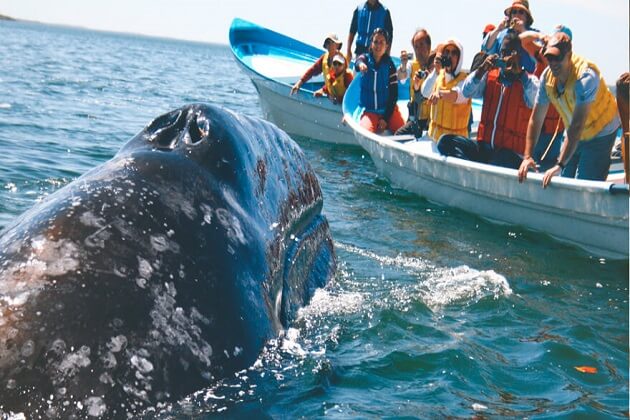 Day Trip to Galle Fort
Galle Fort was a beautiful harbor recognized as Galle Fort World Heritage by UNESCO by the historical remains of ancient ages. It was first built in 1588 by Portuguese and reinforced after that by Dutch to prevent the attack from colonial competitors. Visiting Galle Port, tourists should experience a day trip in range of attractions from Clock Tower, Dutch Churches, Maritime Museum, Old Dutch hospital, All Saints to Galle lighthouse. Ending this day trip, tourists can sight sunset on the fort's wall, see the sun disappearing gradually in the sea, which is actually an unmissable experience when going there.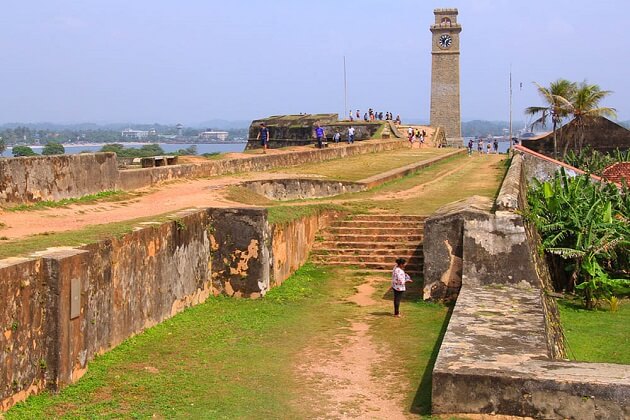 Dazzling Nightlife in Mirissa
Walking along the seashore, you can see a range of restaurants with colorful light from twinkling lights. The food served there is very fresh and much and the atmosphere is also great, which is a perfect combination for a happy dinner. After enjoying a delicious meal, tourists can go for walk in the beach and stop in a bar in numerous bars there with a glass of whiskey and take your mind in free dance in disco lights and beautiful music, every stress in your life will break up. However, if tourists like a peaceful place to relax, going along the seashore and listening to the crash of waves and tasting a tin of beer is a good choice for you.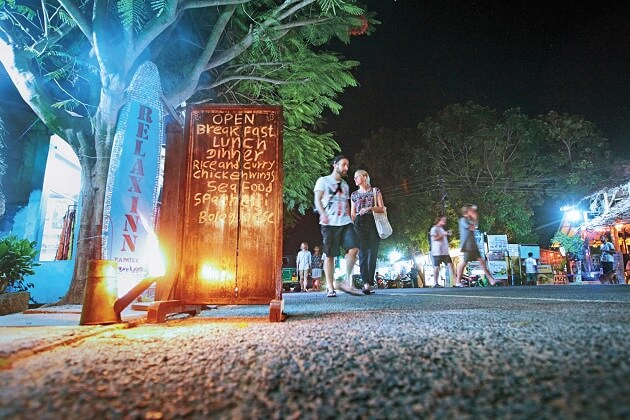 Surfing in Mirissa
Besides the fame for beautiful and fresh beaches, Mirissa is also well- known about sports games, one of the most popular games mentioned there is Surfing. If tourists have not experienced surfing before, Surfing in Mirissa is a good way for the first trial in your life with a professional but very friendly coach. The cost of the package for surfing is from 255 euros to 1068 euros.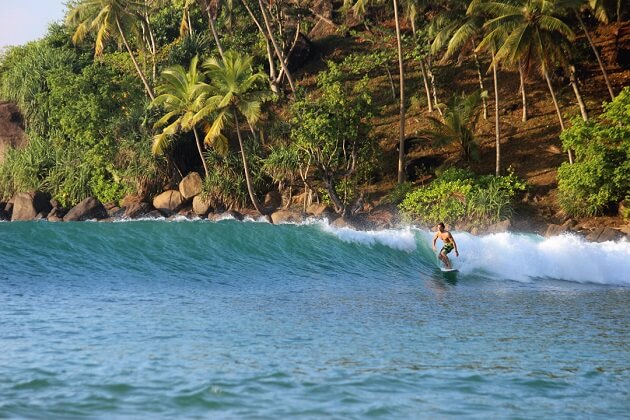 Snorkeling and Scuba Diving
Snorkeling and Scuba Diving is an unmissable sports game for adventurers. Although the fee for these activities is not cheap, about $45 with equipment and $80 for 2 tanks it is reasonable for sightseeing the marine life with actual sensations or having great opportunities about swimming next to whale in the sea.