Famed as a shining pearl in the Indian Ocean, Sri Lanka offers a vast variety of fun, adventure, and romance. The country is among the best destinations in the world for those looking for an exotic holiday with everything from hills, jungles, beaches, ancient buildings, culture, history, wildlife, and excellent food. A combination of all those things is what makes up some of the most enticing things to do and see in Sri Lanka that are highly recommended for everyone to enjoy a real Sri Lanka tour.
Top 5 unique things to do in Sri Lanka
Ride the Kandy to Ella train
The train journey from Kandy to Ella is considered to be the most scenic train ride in Sri Lanka as well as in the world. Operated in both directions, the train can be taken from Kandy to Ella and in reverse from Ella to Kanda. Things you need to do are just hop on board of the 7-hour trip with only $1.5 and be amazed by the tea plantations, endless mountain views and waving kids along the train track. During the train journey, you can walk on carriages, visit the food stand or purchase some snacks, fresh fruits from vendors who get on the cabin at train stations. It's highly recommended for you to take the morning trip as you don't want to be riding through those magnificent sights when it's dark.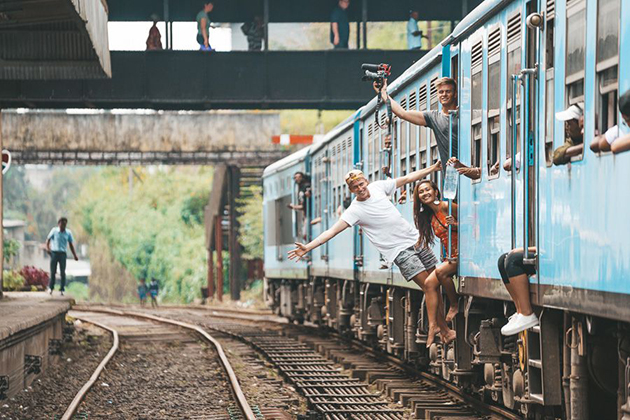 Trek through tea plantations in Nuwara Eliya
The dominance of high hills makes Sri Lanka an advantageous land to plant tea. When taking the scenic train from Kandy to Ella, you can get off in the picturesque town of Nuwara Eliya. The Nuwara Eliya tea plantation is one of the most famous and beautiful sceneries in Sri Lanka and the town itself looks like a village nestled in the middle of England and the Swiss Alps. Trekking through verdant sloping hills while enjoying the pure air will leave you awe-inspiring moments. You also should not miss tasting the world's best tea, see the smiling locals and learn a little about their idyllic lives.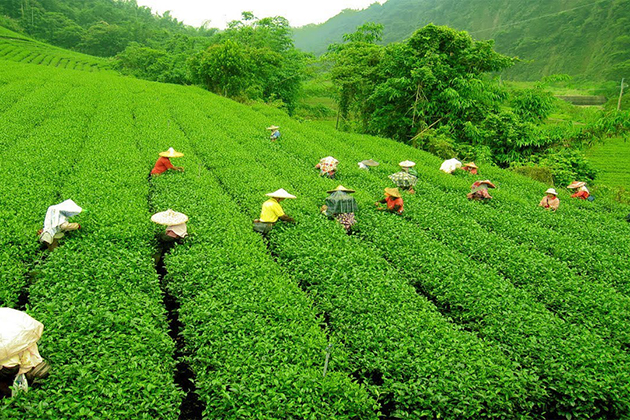 Safari adventure in Kaudulla National Park
Go on an open-top safari jeep and spot wildlife animals in Kaudulla National Park can be the best thing to do in Sri Lanka for adventure lovers in their Sri Lanka holiday. The country is endowed with a great selection of wildlife animals: leopards, a herd of elephants, sloth bears, owls, and monkeys. Cruising slowly through the jungle, you will be impressed by watching calves follow their mothers and males fighting and seeing elephant foams.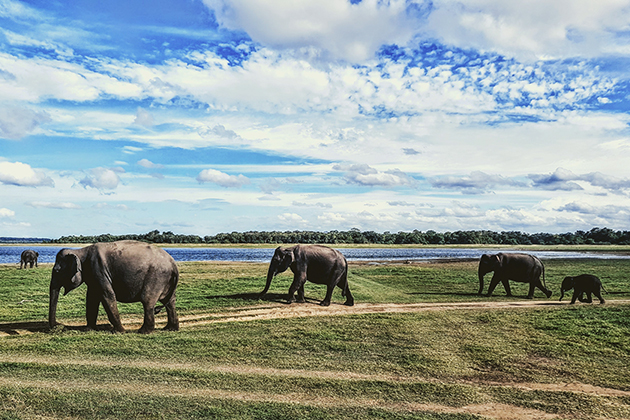 Hike up Adam's Peak
Adam's Peak is the most sacred attraction of Sri Lanka and while there, you are advised to take this incredible pilgrimage journey. From the full moon of December till the end the full moon of April is the prime season for pilgrims to make their way of 5200 steps to the Peak said to be the first place Adam was cast down from Heaven. It is not a priority for Sinhalese to be up there for the sunrise, so people often start climbing at midnight and you can have the chance to admire the mountain lit up with pilgrims. What makes Adam's Peak unique is that it is a holy place for every religion, Muslims, Buddhists, Christians and Hindus to come together harmoniously.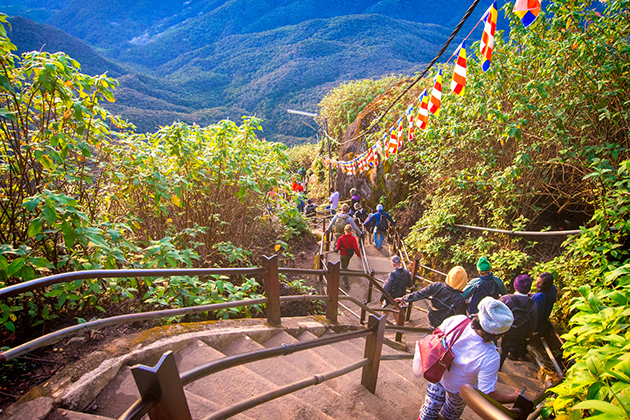 Admire sensational sunset in Dalawella
Few places in the world give you the chance to enjoy stunning sunset like in Dalawella, near the popular town of Unawatuna, Southwest Sri Lanka. Swing at one of the many palm trees and get pampered by sea wind and waves in a turquoise seascape are awe-inspiring moments in your visit to Sri Lanka.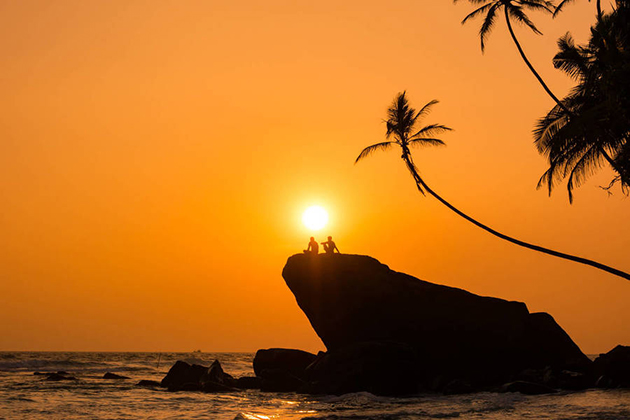 Top 5 irresistible things to do in Sri Lanka
Get relaxed with Ayurveda therapy
Ayurveda is well-known as a great alternative to conventional medical treatments. Though India is said to be the homeland of Ayurveda, Ayurveda medicine is a treasure health retreat of Sri Lanka as well. Ayurveda recipes of Sri Lanka are slightly different from those in India, but the aim and efficacy are exactly the same – to bring balance between body and mind. The famous retreat makes you forget about everyday stress, indulge your senses in an oriental paradise and discover inner peace. It also has long-lasting positive effects on your health. Your body, mind and spirit will get freshened by the traditional treatment of Sri Lanka.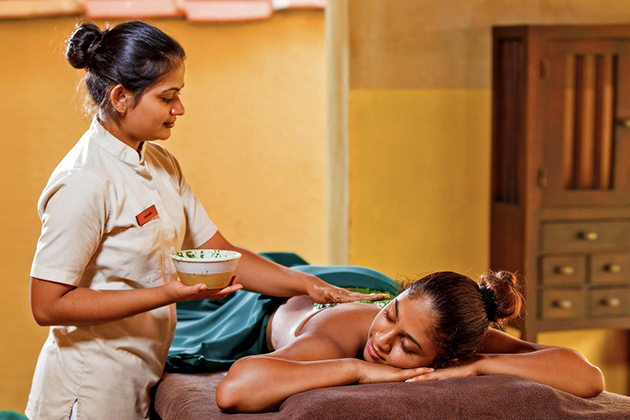 Laze on Sri Lanka beach
Surrounded by a 360-degree view of the Indian Ocean, Sri Lanka is the place you cannot leave without lying on the best beaches in the world. Not just breathless to swim, Sri Lanka beaches can have much that that. Try your hands on some water sports such as canoeing, surfing, island hopping, scuba diving or snorkeling. Staying in seaside bungalows or luxury resort is certainly one of the obligatory things to do and see in Sri Lanka beaches. Do you still wonder what to do in Sri Lanka beaches? Get some golden tan on sugar-soft sand, treat yourself to an Ayurveda message, take a river safari and whale and dolphin watching will bewitch your heart.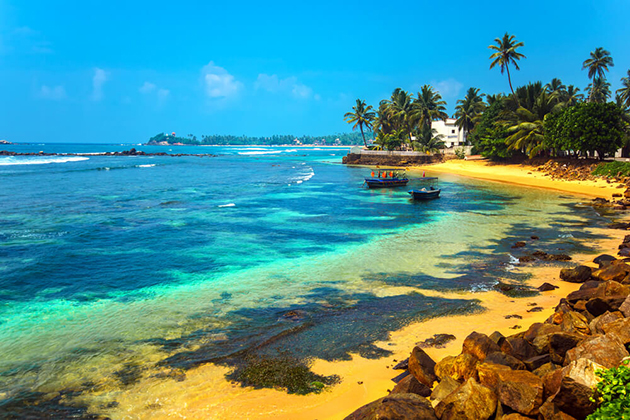 Surf at Hikkaduwa
Pleasant weather, the warmest water and eternal waves make Sri Lanka a surf paradise. Located close to the capital city, Hikkaduwa surf beach is a dream destination for everyone to head out into the water. Surfing in Hikkaduwa is so mesmerizing that you would lose track of time until the sun begins to set. How cool it is to watch the surfers taking wave after wave while enjoy chill vibe in bars or huts fringing the beach. Definitely surfing in Hikkaduwa is one of the adventurous things to do in Sri Lanka.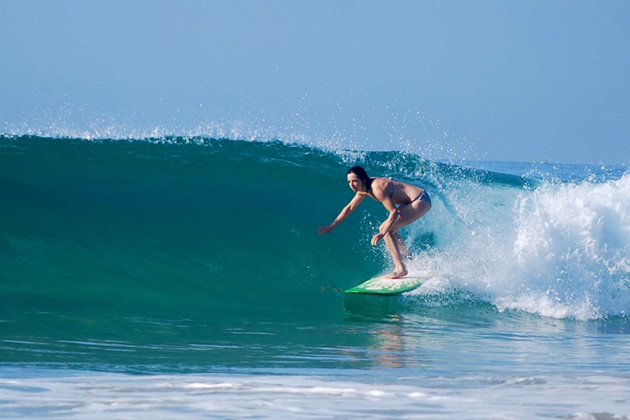 Climb Sigiriya Lion Rock
Known as the eighth wonder of the world, Sigiriya Lion Rock offers unique experiences for visitors. The site is an extremely stunning feat of architecture and also a very historic site as the fortress at the top has been subjected to many wars and invasions with unoccupied palaces, waterways, canals, stairs and walls. Finish your 45-minute climb, you deserve to enjoy the beautiful sunset and have the bird's eye view to spectacular mountain ranges and lush jungle below.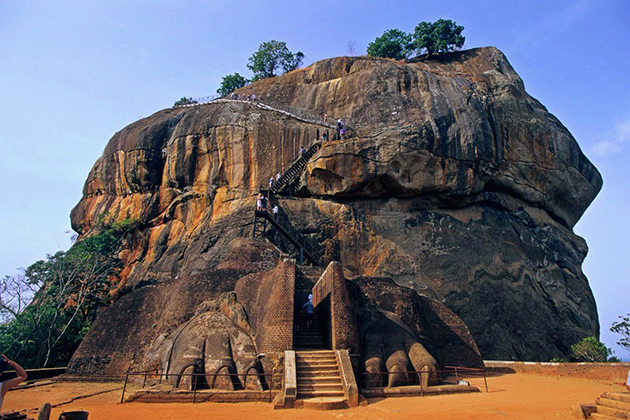 Discover Colombo City
After your big adventure in Sri Lanka, taking a day tour in Colombo or hanging out at the hotels can get you to relax. This is the metropolitan city of Sri Lanka with a great mixture of modern life and architecture, old colonial buildings as well as ruins from the time it was the capital of the British Ceylon. Put on your good walking shoes or sandals, simply wander through the city scattered with impressive museums, temples and colorful markets. Take a tuk-tuk around the city and unwind on the ride when passing remarkable attractions will leave unforgettable memories in your Sri Lanka tours.