The traditional costume of any country can tell people a lot about the history and life of that country. Sri Lankan traditional dress – sarees for women and sarongs for men, was affected by both Asian and European cultures making them more beautiful and alluring. Varying in different areas and different periods of time in history, the features of the usual Sri Lankan garment are a great example of fine artistic manufacturing. If you're looking for a little information on the traditional costume of Sri Lanka, keep reading.
History of Sri Lankan Traditional Dress
Sri Lanka has been known for its handmade woven looms and batik design – a technique of wax-resist dyeing applied to the whole cloth that contributes to its history in the dress. Any investigation into the subject of Sri Lanka's traditional dress must begin with the indigenous inhabitants – the Veddas who were hunter-gatherers wearing a very simple garment, about three yards of calico – a plain-woven textile made from unbleached and often not fully processed cotton, which was sufficient to form a loincloth (known as span cloth locally). They use that part of the cloth that encircles their waist as a pocket to carry betel-nut and food. This also acts like a belt, through which they thrust the handles of their short axes when traveling in the forest. That was the original garment of the island – minimal, functional, and ideally suited to the climate and environment. The women's garment was usually topless. A piece of calico fastened around the waist like a Malay sarong and stretching to about the ankles. Sometimes people added another strip to cover the breasts.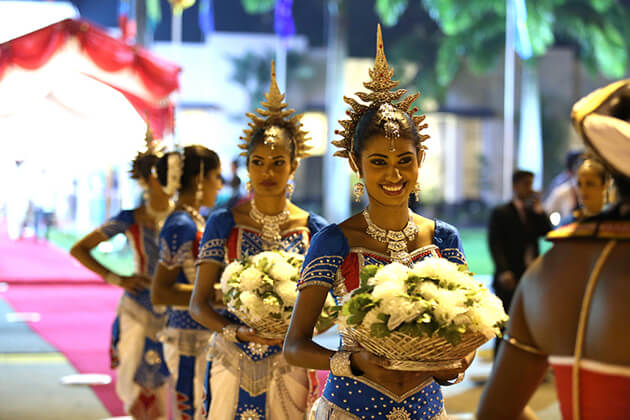 European influence displays itself in Sri Lanka quite noticeably. Both the Portuguese and the Dutch consistently contributed to this part of clothing. The Portuguese and Dutch fashion from the 16th to 18th century introduced the Sinhalese nobility with magnificent sleeves, lace trim, and frills. Some details of the attire were born not without Indian influence during the Mughal era. For instance, the sarong tied in such a way that something resembles curvy trousers.
Traditional Costume of Sri Lankan People
Saree – Traditional Dress of Sri Lankan Female
Saree is a purely women's clothing. The traditional Kandyan saree (osaria) is the popular attire in Sri Lanka and is worn by women for all ranges of events. Some wear a saree on a daily basis, or because their work uniform calls for a saree. School teachers and office women wear sarees, as well as tea pluckers when it is their custom. In official events and ceremonies, traditional clothing is a saree that must be very colorful, bright and ornate.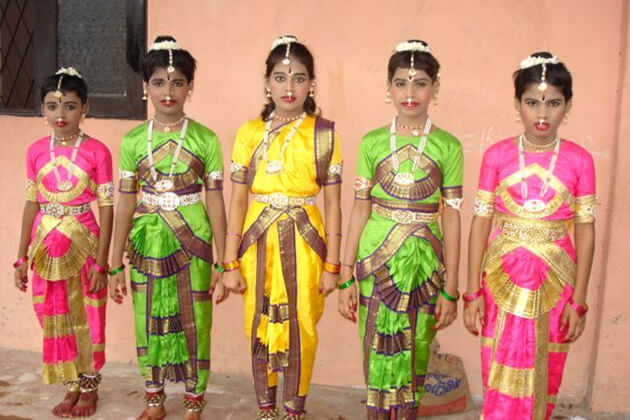 This dress is worn by Sri Lankan women in many different styles. There are two ways of draping the saree: the Indian and the Kandyan style. The Kandyan one is more popular in the hill region in Kandy from which the style originated. It consists of a full blouse that is 6 – 8 meters in length and covers totally the midriff and is partially tucked at the front. The top is a scarf or a piece of cloth put on the shoulder of the women and tucked in the skirt.
Saree can be smoothly dyed, and also embroidered or printed with patterns like batik. The modern saree leads to most people baring their midriffs. The final tail is neatly pleated rather than free-flowing. Women cover their bodies with light and feminine sari, use massive jewelry, and wear hair updos.
Sarongs – Traditional Costume of Sri Lankan Male
Like other South Asia countries, sarongs are also the basic attire for men in Sri Lanka. Sri Lankan men wear the popular and widespread sarongs – a long piece of cloth wrapped around their waist. The original sarong is a tube of fabric folded and knotted at the waist at different lengths, depending on what the wearer is doing. During Sri Lanka tours, you will see men of all cultures wearing sarongs, such as tuk-tuk drivers, fishermen, cooks and more recently, businessmen, who wear the modern sarong with pockets.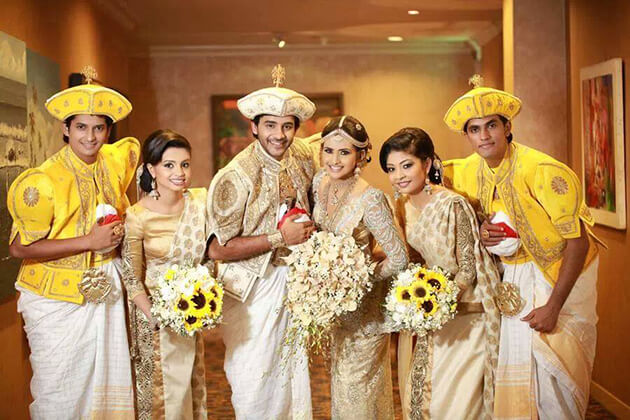 In many regions, men combine a sarong with a long-sleeved shirt. There are quite a few ways for men to wear a sarong. They sometimes tie it and make a knot in front, or they wrap around like a skirt, while others put the end between the legs and tie or tuck into the sarong. Sometimes they're at home, they leave the upper body parts open or wrapped up in a separate piece of cloth such as a wide scarf.
Sri Lankan Traditional Dress's Attributes
Traditional Sri Lankan attires have many other features like appearance, decoration, color which changed over time. In the late 19th century, many women in the Maritime Provinces or Low Country did not cover their breasts, whether at home or when going outside. The royal ladies wore pleated robes from the waist upwards to save for necklace, armlets, wristlets, ear and hair ornaments. Usually, royal people's dresses were very decorative and they used costly materials and very decorative costumes. They used clothes with draping and covered with lots of jewels on the upper body.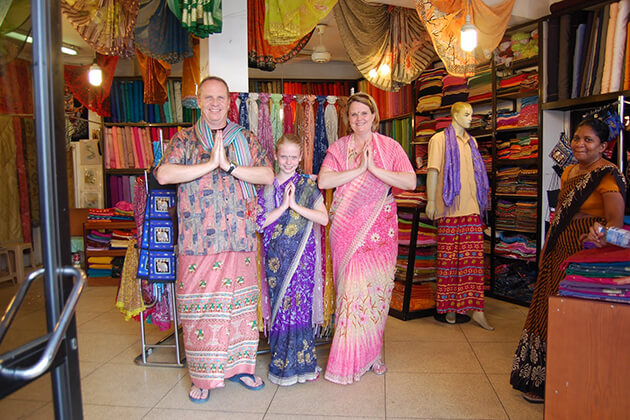 Marital status and ethnicity appear to be factors that make women decide what to wear. Sri Lankan women also decide on style depending on their age, personal preference and special occasions. Little girls often have skirts and blouses while those reached puberty wear half sarees, and married women always wear sarees for day to day activities like shopping. Elderly people also wear sarees, in fact, you won't see an elderly woman wearing anything but a sari.
Interesting Facts of Sri Lankan Traditional Dress
Colour has never been absent from Sri Lankan clothing. Colour is definitely a popular denominator when it comes to Sri Lankans who find the most playful use of it.
A saree is more than an unstitched fabric of the hand-woven cloth. Today, a saree has evolved to become inclusive of contemporary materials such as cotton, silk, synthetic fiber, linen, and others.
A saree can be draped over one hundred ways as most of the drape styles are regionally specific. If you google "how to wear a sari", there are hundreds of videos that give you tips on how to wrap your saree perfectly.
Wearing a saree requires no safety pins. People think that a saree is at risk of "falling off" and use a bunch of safety pins to secure it. Indeed, those things often make the attire more rigid and this is not how it's supposed to be worn.
Every Sri Lankan woman gets herself a new saree for special occasions, like Christmas.
The traditional Kandyan sarees today are mostly observed at Sri Lankan weddings, worn by the bride to religious events. They vary in style, but the elegance and grace of the figure-flattering outfit are undeniable.
Men are often topless while wearing sarongs when it's scorching.
Where to Buy Sri Lanka National Dress & Traditional Costumes
If you want to have your own Sarees or Sarongs, I highly recommend you go to Orchid House Boutique at Dutch hospital shopping, Hospital St, Galle 80000, Sri Lanka.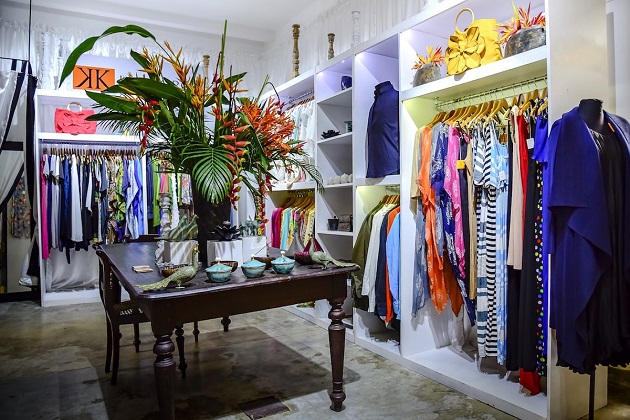 Moreover, you can easily find some shops selling them when you have some time relaxing on the beaches. Just go inside and take a look. If you like, you can buy one.