Ayubowan!
Hope you all are doing well after the tragic events of the Corona virus pandemic. We offer our deepest sympathies to the ones who were lost to the grasp of the disease. It's upsetting to think how much damage the pandemic did to the whole world.  We too had to go through many procedures and lock-downs to control the outbreak.
We are glad that we have not had a new contraction from the general public for over a month. And all other contractions are from quarantine Centres.
Is Sri Lank Open for Tourism?
With the successful control of the virus outbreak our country is beginning to open up. With our airports opening up on the 1st of August for both inbound and outbound travels. However with strict health and safety guidelines in place to protect all tourists. More information about the guidelines and protocols can be found below.
The financial sector of Sri Lanka too was highly affected by the pandemic. After the whole country was closed down for two months the tourism sector was affected heavily. So, nothing can be happier that we can welcome travelers all around the world to Sri Lanka again. It is our honor.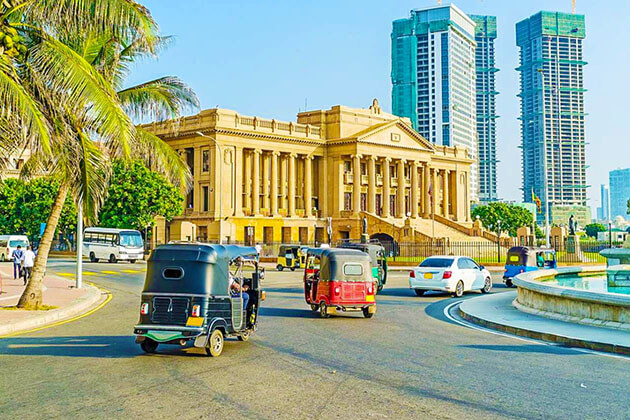 Guidelines to visit Sri Lanka
Airport in Operation
According to Sri Lanka government, all airports will open on 1st August. Airports include:
Bandaranaike International Airport – BIA
Colombo Ratmalana Airport – RMA
Mattala Rajapaksa Hambanltota Airport – MRHA
On Arrival
We do understand your concern of being quarantined on arrival but don't worry, please. There will be no quarantine on arrival unless any symptoms are detected. Upon arrival, a completed health declaration form must be presented to authorized officials. Furthermore, a mandatory PCR test is done at the airport for no charge. In an event test results takes 24 hours, you'll be able to select a hotel for a night stay from certified 4* and 5* hotels in either Colombo or Negombo.
Accommodation
For those who plan a trip to Sri Lanka, a minimum 5-night stay is required. Only accommodation for hotels which are certified under health and safety guidelines are accepted. Details for certified providers can be found at the Sri Lankan tourism website.
Moving Around
To make sure your safety, please arrange transportation methods prior to your arrival, with your accommodation provider or with us. Usage or public transport is highly discouraged. All tourist attractions will be opened from 1st August onward with safety protocols in places.
About 10 Days or More
Travelers who will be staying for over 10 days will be required to take a third PCR test during their stay. In case of a positive PCR results, the affected will be quarantined at a designated hotel or hospital depending on the place and time. If symptoms are detected, quarantine would usually be 14 to 21 days.
Visa Application
There are some essential information you need to know as:
Booking details at certified accommodation locations
Itinerary of travels in the island
Return ticket
Proof of medical insurance
Visa Procedure
All tourists are required to have a valid visa that can be issued for 30 days and is extendable for up to 6 months after arrival. Relaxations for long stay guests are currently under consideration. Enabling travelers to be granted 5-year multiple entry visas with a maximum 6 months stays. The Visa fee is US $100.
Pre-departure
A negative PCR test is required prior to boarding your flight and on arrival to the island. Also, Pre-departure PCR tests should be no longer than 72-hours.
Above, all information and guidelines to travel to Sri Lanka are mentioned. Thank you so much for reading. Hopefully, no unforeseen circumstances would occur and we can serve you for Sri Lanka tours again.