General Information
Tour Highlights
Trek through luscious green hills
Journey amongst Sri Lanka's most breathtaking scenery
Sample local cuisine at a village meal
Inhale local flavors at a spice garden
Tour Details
Tour Route: Negombo – Sigiriya – Digana – Kandy – Nuwara Eliya – Ella – Hikkaduwa – Colombo
Duration: 15 Days/ 14 Nights
Departure Date: No fixed departure. Any time you wish!
Start/ End: Negombo/ Colombo
Tour Customizable: Definitely! Tell us your interests
Brief Itinerary
Day 01: Negombo Arrival
Day 02: Negombo – Sigiriya
Day 03: Sigiriya
Day 04: Sigiriya – Digana
Day 05: Digana – Kandy
Day 06: Kandy – Nuwara Eliya
Day 07: Nuwara Eliya – Ella
Day 08: Ella
Day 09: Ella – Hikkaduwa
Day 10: Hikkaduwa
Day 11: Hikkaduwa
Day 12: Hikkaduwa – Colombo
Day 13: Colombo Departure
Full Itinerary
Day 01: Negombo Arrival
Upon arrival, our representative will meet and escort you to the hotel. Once you've settled in the hotel, the rest of the day will be yours. Relax at leisure. In the evening, enjoy a welcome dinner.
Day 02: Negombo – Sigiriya
After breakfast, we head to UNESCO World Heritage City – Sigiriya. Today, you have 2 optional activities to choose from.
Activity 1: Visit Dambulla Cave Temple
Visit the ancient Dambulla cave temples at one of the most well-preserved temples and cave sites in Sri Lanka. Admire Buddhist mural paintings lining the walls of the 7th-century caves as well as a collection of hundreds of Buddha statues in different poses.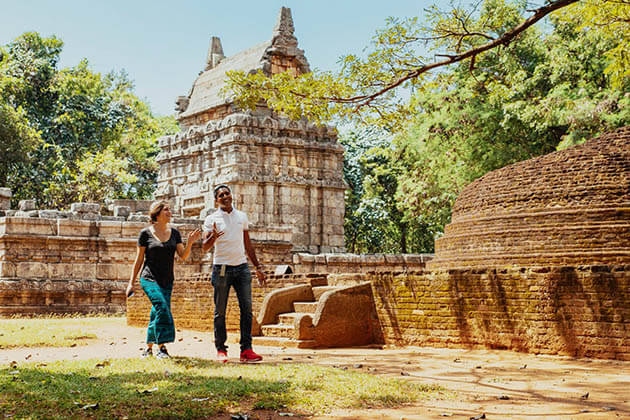 Activity 2: Visit Sigiriya Rock Fortress
Be attracted by this rock fortress, which captivates every traveler with its well-laid out gardens, palaces, monasteries, and caves which are adorned with stunning wall motifs. We start at the water gardens and climb over 1,200 steps in order to reach the top. We pass through caves with frescoes and boulders to seek ruins of a palace on the flat surface of the old volcanic magma rock. The rock rests 370m above sea level with a sheer drop on all sides.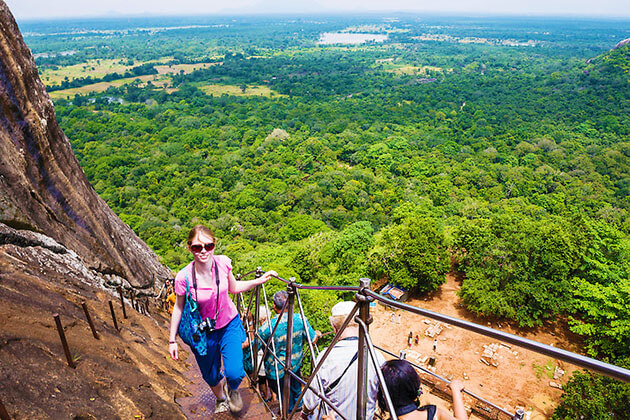 Day 03: Sigiriya
Today, enjoy your free day to discover Sigiriya your way. Feel free to contact your guide if you need some help.
Day 04: Sigiriya – Digana
Visit a spice garden en route in Digana near Kandy. Enjoy lunch at Tamarind Gardens Farm before embarking on a village walk. Stop at the home of a jewelry maker who handcrafts delicate Kandyan jewelry and the cottage of a local woman making incense. Get to know how to make Sri Lankan bread or sweets while helping out with dinner. Accommodations at Tamarind Gardens Farm homestay are simple, yet authentic.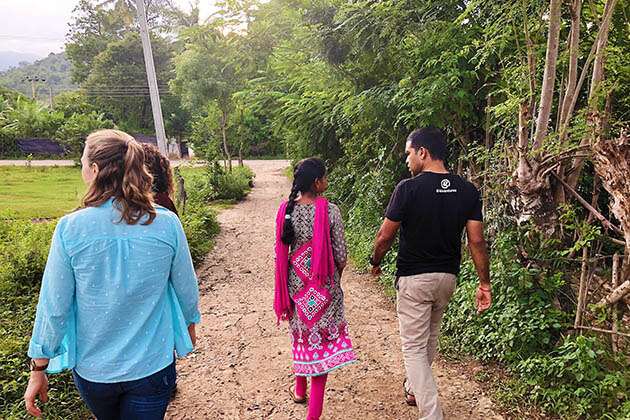 Day 05: Digana – Kandy
Enjoy a free day of exploration. If you want, choose an early wake-up call helping the Tamarind hosts feed the farm animals. Later, in the afternoon, drive to Kandy and opt to head to the Temple of the Tooth, get into a traditional Kandyan cultural show, or watch a cricket match. Early birds can get a productive start to the day and join their Tamarind hosts for their morning routines. Enjoy Ayesha and Nalin at 6:00 am for first-hand experience with farm life. Take one step closer to the farm animals, feeding the cows and chickens. Breakfast at Tamarind Gardens and soak in the vistas of the Victoria Reservoir over tea before transferring to Kandy. In the afternoon, you are free to explore the stunning city that is Kandy, opting to visit a cultural dance, the Temple of the Tooth, or a cricket match.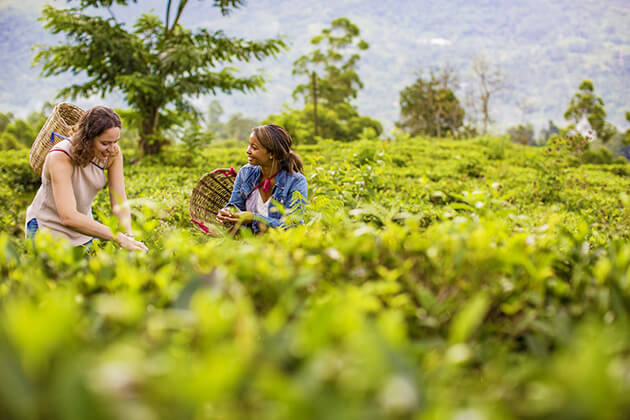 Day 06: Kandy – Nuwara Eliya
Breakfast and then, travel to stunning Nuwara Eliya. We visit a tea plantation and explore the nearby hills on foot. Nuwara Eliya is a place producing the finest Orange Pekoe Ceylon Tea and it is inhabited mainly by tea planters and plantation workers. Visit one of the factories to get to know all about tea production.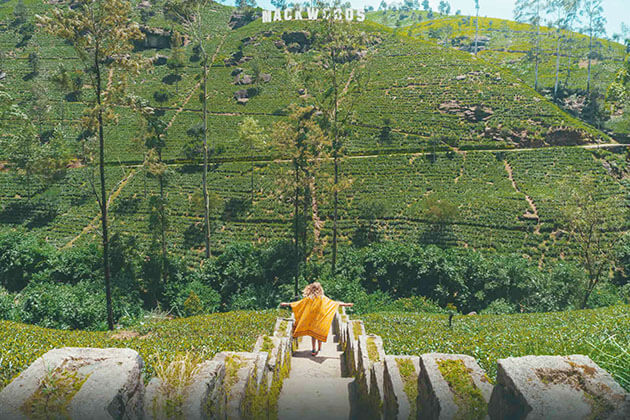 Day 07: Nuwara Eliya – Ella
Choose to enjoy a trek the trails of Horton Plains National Park in the early morning. Later, in the afternoon, traverse to Ella and get into a free evening. Opt to unwind and explore Ella or enjoy a traditional cooking class.
Horton Plains Trek
One step closer to nature and stunning view on this Horton Plains Trek. We hike 9km into the Horton Plains and pass through the clouds to explore a majestic drop giving amazing sceneries over the plains into the sea.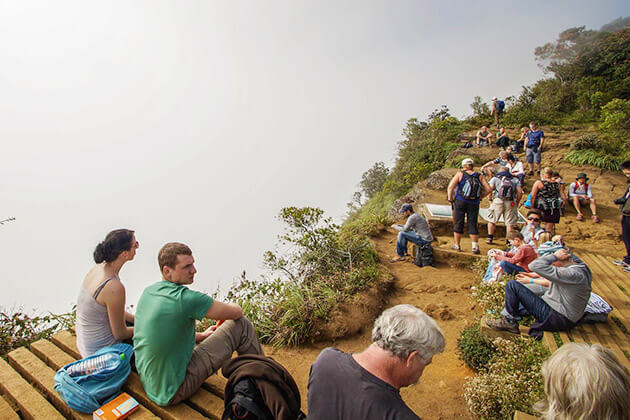 Spice Garden Cooking Class
Visit the spice garden, then learn some of Sri Lanka's culinary traditions with this unique cooking class.
Day 08: Ella
Spend the morning trekking Little Adam's Peak. Later, get into some free time in scenic Ella. Choose to trek to Ella Rock or take a local cooking class. Optional today's activities include:
Trek to Ella Rock
Start today's trek to Ella Rock. We pass through the lush surrounds and forest of rubber trees. Enjoy scenic vistas of the surrounding green valleys and plains from the peak.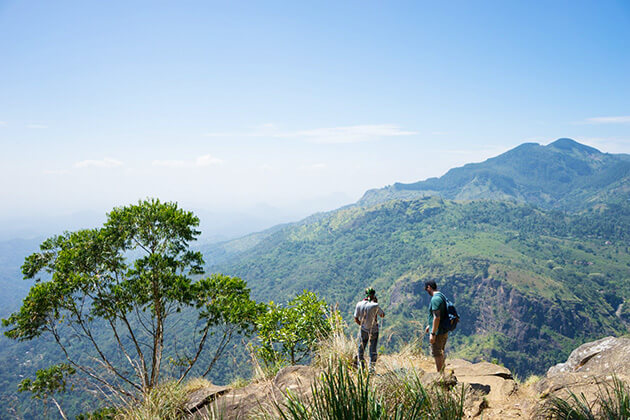 Spice Garden Cooking Class
Enjoy a trip to the spice garden, then get to know some of Sri Lanka's culinary traditions with this unique cooking class.
Day 09: Ella – Hikkaduwa
Today, drive to the southern coast and we stop en route for a walking tour of Galle Fort. Finish today's excursion on the beaches of Hikkaduwa. Today's activity includes:
Visit Galle Fort
Head to the Galle Fort which is a 16th-century fort first built by the Portuguese, and later occupied by the Dutch. The ramparts are still standing even after being damaged by Mother Nature.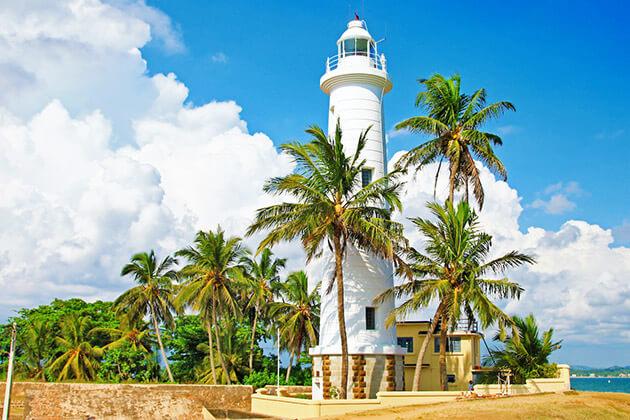 Day 10: Hikkaduwa
Today, you are free to relax at leisure. You can choose to enjoy an optional activity like Dolphin Watching.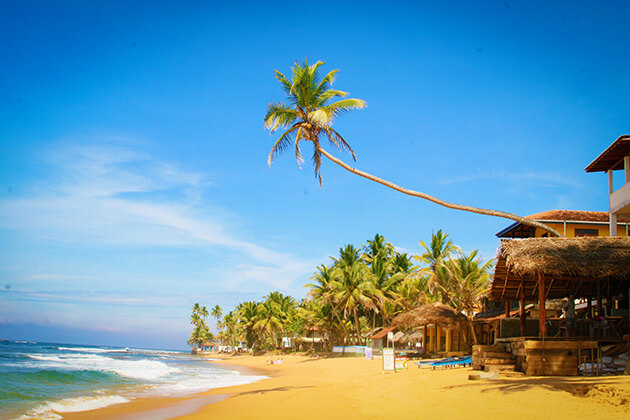 Day 11: Hikkaduwa
Continue your relaxing day in Hikkaduwa.
Day 12: Hikkaduwa – Colombo
Breakfast and you will be escorted to Colombo. When you've settled in the hotel in Colombo, relax at leisure as the rest of the day will be yours.
Day 13: Colombo Departure
Time to say goodbye to Sri Lanka. Breakfast and relax at leisure until getting escorted to the airport for a flight coming home. Your Sri Lanka holiday ends. Hope you enjoyed it and wish that we could serve you next time in Sri Lanka.
No Fields Found.