General Information
Tour Highlights
• Beach, Relaxation, Buzzing Bars, Al Fresco Dining
• UNESCO World Heritage Site, Rock Fortress, Rock Paintings and Frescoes
• Tooth Temple, Magnificent Hills, Tea Plantations, Kandy Lake, Traditional Dance Performances
• Colonial Hill Station, Tea Plantations, Asia's Oldest Golf Course
• Elephants, Leopards & Water Birds, Reptiles and fish
• Elephants, Leopards and Aquatic Birds, Sithulpahuwa, Magul Vihara
• Golden Beaches, Stilt Fishermen, Natural Reef
• Geoffrey Bawa Architectural Excursion, Temples and Mosques, Independence Square
• Beach, Relaxation, Buzzing Bars, Al Fresco Dining
Tour Details
Tour Route: Negombo – Sigiriya – Kandy – Nuwara Eliya – Udawalawe – Yala – Galle – Colombo
Duration: 14 Days/ 13 Nights
Departure Date: No fixed departure. Anytime you wish!
Start/ End: Colombo/ Colombo
Tour Customizable: Definitely! Tell us your interests
Brief Itinerary
Day 01 – 02: Negombo Arrival
Day 02 – 04: Transfer to Sigiriya
Day 04 – 06: Transfer to Kandy
Day 06 – 08: Transfer to Nuwara Eliya
Day 08 – 09: Transfer to Udawalawe
Day 09 – 10: Transfer to Yala
Day 10 – 13: Transfer to Galle – Beach Relaxation
Day 14: Colombo Departure
Full Itinerary
Day 01 – 02: Negombo Arrival
Upon arrival, our representative will happily greet and escort you to the hotel in Negombo.
Negombo is a bustling beach town with plenty of opportunities for rest and relaxation! Nestled on the rim of Negombo Lagoon, the town boasts a long stretch of buzzing yet beautiful beach and is located close to Colombo.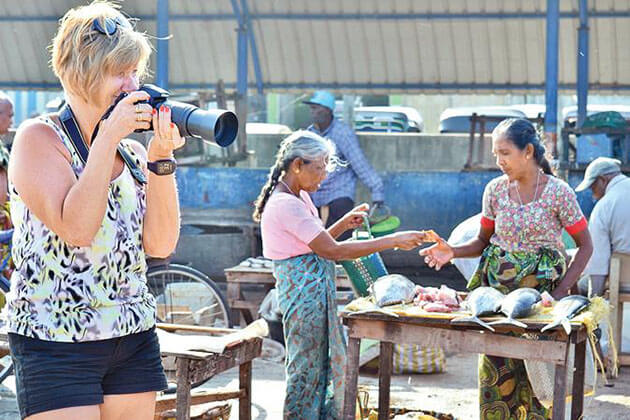 Highlights of Negombo and Fish Market
Negombo boasts several buildings dating back to the days of Dutch and Portuguese presence in the country. The beautiful seashore and the ocean are dotted with catamarans. The Negombo lagoon is renowned for its harvest of lobsters, crabs, and prawns. The seafood auctions on the beach are a must-see on this half-day excursion. Pretty canals built by the Dutch still buzzing with activity snake their way through this fishing village. Other highlights of the city are the Dutch Fort and historic Catholic Church.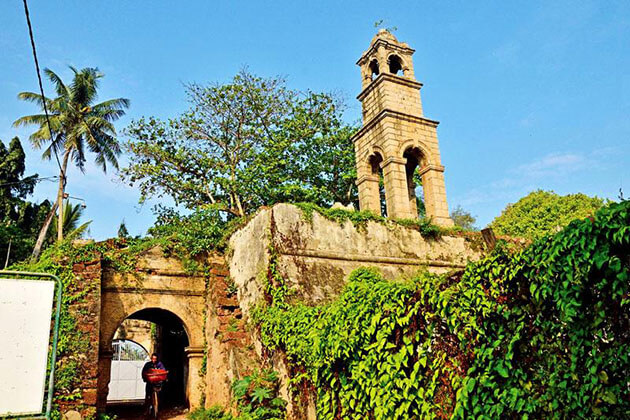 Day 02 – 04: Transfer to Sigiriya
Sigiriya is the ideal location if you wish to venture back in time! Unearth this UNESCO World Heritage site that dates back 5,000 years to the Mesolithic period.
Highlights of Sigiriya
Sigiriya, which translates to Lion's Rock, is aptly named as it juts out of a granite peak, standing tall at 180 meters and dominating the surrounding dense jungle. Witness Sigiriya Rock Fortress, which is uniquely shaped and can be seen from great distances. You can also discover the fascinating rock paintings and frescoes of Sigiri apsaras (mythical dancing damsels), painted inside the cavity of the western rock face. Discover the style of 7th to 10th-century graffiti by visiting the Mirror Wall! Kindly note that this activity requires a good level of physical fitness due to the steep steps to reach the fortress.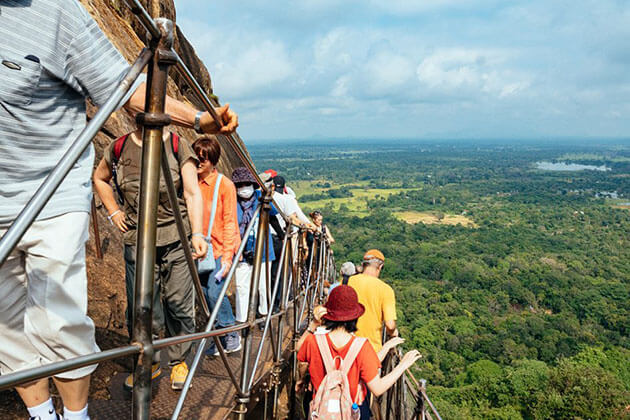 Dambulla Rock Cave Temple Visit
Encounter the largest and best-preserved cave temple complex in Sri Lanka during this one-hour visit! Dating back to the 1st century, the Dambulla rock caves became a Buddhist temple when they were converted into residential quarters for monks. You will be amazed by the five caves that sit under a vast overhanging rock. Each one now acts as a shrine room and contains numerous images of Lord Buddha and bodhisattvas, as well as various gods and goddesses. Mural paintings line the walls, depicting Buddha's journey to enlightenment and his teachings. Throughout the centuries, this has been a sacred pilgrimage site for Buddhists.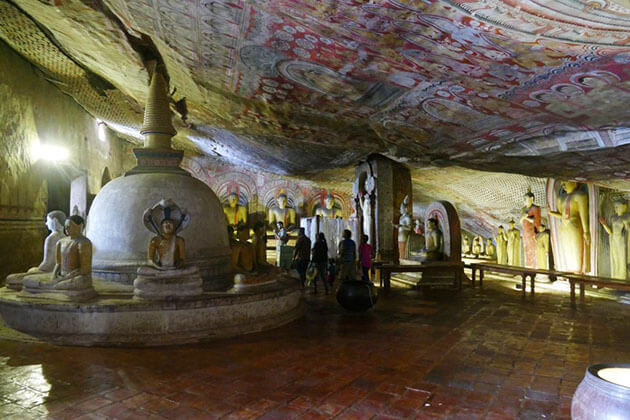 Day Trip to Polonnaruwa (from Sigiriya)
Polonnaruwa..the medieval capital of Sri Lanka was the second capital city of the country after the destruction of the ancient city of Anuradhapura in 993 (from the 10th-12th century AD). The old-aged Sri Lankan architecture from the 12th Century. See Brahmanic monuments constructed by the Cholas along with the monumental ruins of the garden city created by Parakramabahu I in the 12th century. Visit the ruins of the King's Council Chamber, the Royal Citadel, the Kumara Pokuna, the Royal Pavilion, the Vatadage Relic House, Kiri Vehera and Gal Vihare; see Art, Architecture, and Sculpture at Gal Viharaya, Thuparamaya Image House and Lankatilaka Image House.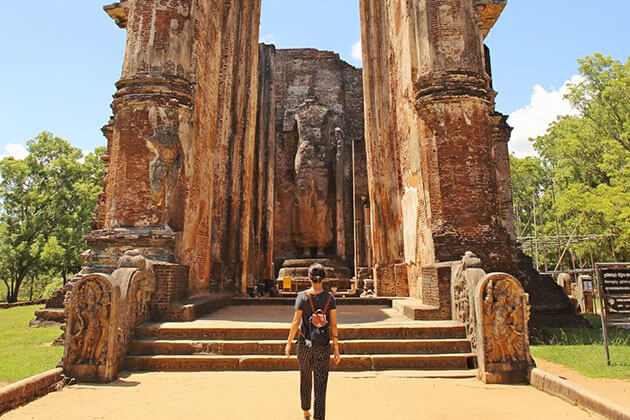 Day 04 – 06: Transfer to Kandy
Kandy was established in the 14th century and was the last independent city and capital of the Singhalese kingdom.
Highlights of Kandy
Delve into regality as you explore the last royal capital. Venture to Dalda Maligawa, the gold-roofed Temple of the Tooth, which houses the most sacred Buddhist relic, a tooth of Lord Buddha. Observe the many pilgrims conducting pujas (prayers) throughout the temple complex. Surrounded by aromatic tea plantations, magnificent hills and set by a lake, you can also enjoy some wonderful scenic views. Take a leisurely stroll around Lake Kandy, a protected lake where fishing is banned. Sip up the history of tea drinking pioneers like Lipton and Taylor at the Ceylon Tea Museum, a 1920s vintage tea factory. Enjoy traditional dance performances that capture the imagination and connect audiences to the tribal roots of the performers.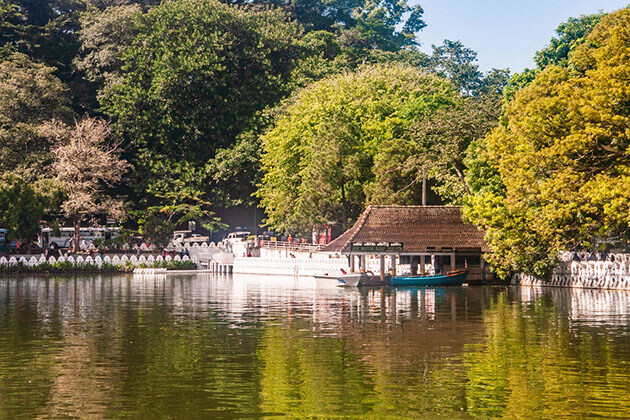 Elephant Walk & Bathing Experience at the Millennium Elephant Foundation
Experience time with gentle Asian elephants who have been given a second chance at life thanks to Millennium Elephant Foundation, a local animal charitable organization. A personalized guide will be with you throughout your tour of the verdant 15-acre estate and will be able to show you the facilities. Learn about how the organization medically assists these gentle giants. Take a tour of the on-site museum, which highlights the history of these elephants and the organization since it was first founded in the 1960s by the Samarasinghe family. This private experience offers you a 30-minute walk through the grounds with an elephant, where you can assist with the pachyderm's bathing in a local river. If you would like the elephant to give you a shower from his trunk, then he may just oblige! You can also tour the Maximus Elephant Dung Paper Factory, an income-generating project of the organization. If you wish to stay longer, a three-course lunch (with refreshments) can also be arranged in advance.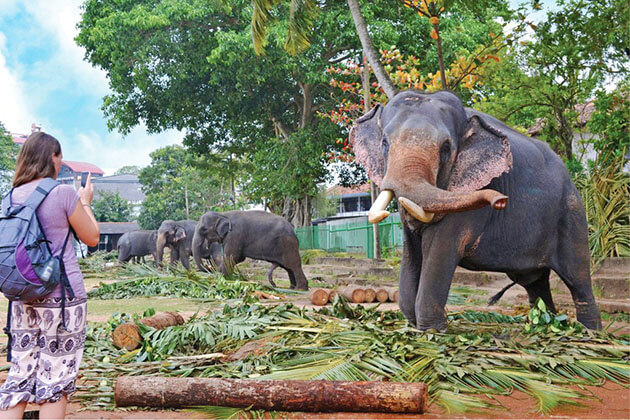 Half-Day Kandy Temples Tour
Explore a Sri Lankan jewel! Located at an altitude of almost 500 m above sea level, the ancient capital city of Kandy offers a rich amalgam of ancient wonders. Visit centuries-old famous temples and architectural marvels on a pleasant Kandy loop, past three 14th century Hindu-Buddhist temples and back through Peradeniya Botanical Gardens. Embekka Devalaya, Lankatilaka Vihara and Gadaladeniya Temples are among the other famous sites in the city. Discover fascinating traditional and contemporary motifs and colors during your visit to a local batik printing factory, before you return to your hotel.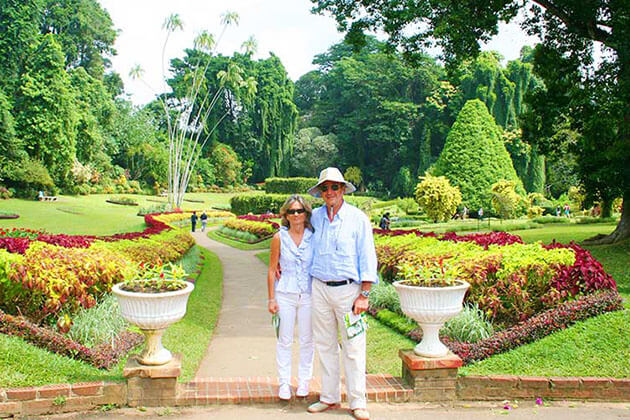 Day 06 – 08: Transfer to Nuwara Eliya
Sri Lanka's very own "Little England", this is decidedly a trip to a surrealistic hill station with swirling mists and tumbling waterfalls!
Half-Day Hike to Horton Plains
Today, you will enjoy hiking at 2,134m to the 'World's End' – a sheer 1,000 feet vertical escarpment, a unique feature of Horton Plains. The scenic beauty impresses even the most discerning traveler. If lucky, catch a glimpse of the Sri Lanka Whistling Thrush, Sri Lanka Magpie, Black-throated Munia, Black-napped Hare, and Giant Squirrel.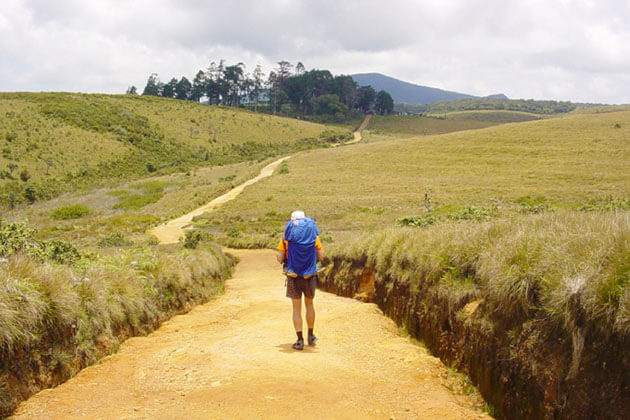 Bird Watching
Heritance Tea Factory follows a strictly green philosophy and does much to conserve nature. The lovely tea gardens are home to several rare species of birds and flora. Feast your eyes on the myriad colors of this avian paradise and marvel at the 50 varieties of migratory birds that come from as far away as Europe and Siberia. You can also observe the Yellow-eared bulbul and the Sri Lanka white-eye that are endemic to this region.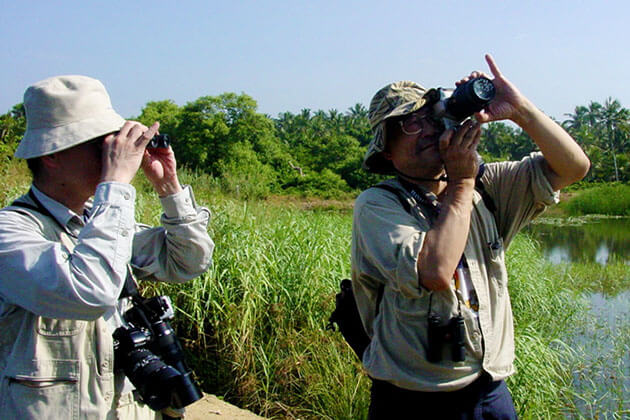 Day 08 – 09: Transfer to Udawalawe
Udawalawe National Park lies southeast of Colombo and rests at the feet of Sri Lanka's Hill Country. There are believed to be 250 wild elephants who have made Udawalawe their home, with a further 200 who roam around.
Udawalawe National Park – Safaris
Head out on an exciting jeep safari into Udawalawe National Park with up to six other guests to witness the large herds of Asian elephants that grace the park. With your experienced naturalist and chauffeur on hand to assist you with locating the wildlife, there are also chances of spotting an array of other mammals, including the rusty-spotted cat, the fishing cat, and the Sri Lankan leopard. If you are lucky you may even see the rare Sri Lankan sloth bear. Several species of deer, the spotted chevrotain, wild boar, golden jackal, the Asian palm civet, and the water buffalo also wander around. Monkeys such as the tufted grey langur monkey and the toque macaque are generally curious about human guests. It's an ideal location for bird watching, and you can spot various endemic and migrant species. (Morning / Afternoon Half-Day Shared Activity & Transfer. Private safaris can also be arranged; Fitness Level: Easy; Suitable all year.)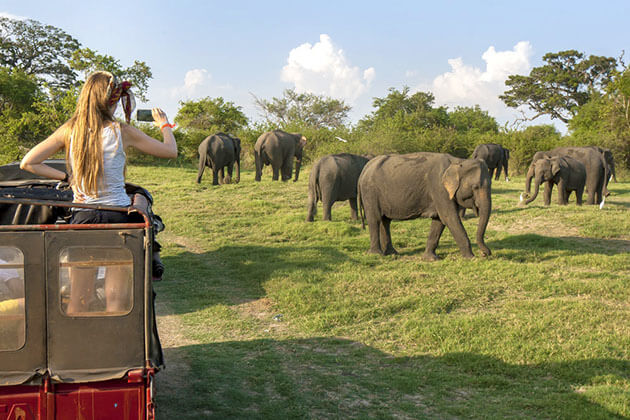 Day 09 – 10: Transfer to Yala
Yala National Park is a sprawling natural paradise teeming with wildlife, in southeastern Sri Lanka.
Half-Day shared Jeep Safari In Yala National Park
Safari in style with an unforgettable adventure on a morning or evening jeep safari through the forests of Yala National Park. You can enjoy upfront and close encounter with the abundance of wildlife who live here. There are about 44 species of mammals, including elephants and deer, and many reptiles and lagoon fauna. If you enjoy birdwatching then there are 125 bird species to be spotted, particularly around the wetlands where waterbirds and waders have made a home. The park is home to the endangered subspecies of the Panthera Pardus Kotiya, which is only found in Sri Lanka. Kindly note that Yala sometimes closes during the months of September and October for maintenance.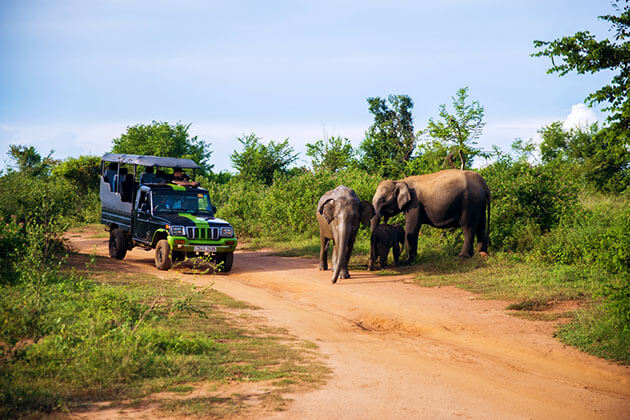 Day 10 – 13: Transfer to Galle – Beach Relaxation
After joyfully enjoy the whole adventure in Sri Lanka, you will spend 3 days relaxing on the beaches.
Koggala, Unawatuna, and Weligama are the most famous of beaches around the Galle area.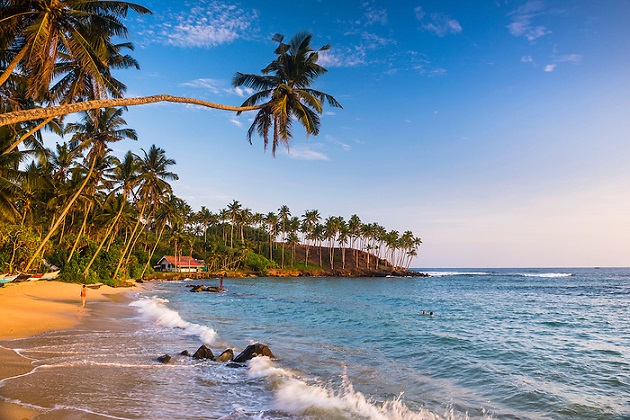 Day 14: Colombo Departure
Time to say goodbye to Sri Lanka. Breakfast and relax at leisure until being escorted to the airport for a flight coming back home. The trip ends. Hope you enjoyed the trip and wish that next time, you would enjoy other Sri Lanka tours with us.